A good craft blog can provide endless inspiration and guidance. Whether you love embroidery, quilting, making paper flowers, or simply sprucing up your home with some good DIY projects, there is something for everyone. Many good crafting blogs also incorporate lifestyle tips, while others provide comprehensive tutorials focused on one particular craft.
Of course, Pinterest is a great source of inspiration, but the best craft blogs are a fundamental resource to help you elevate your work. Elevate your crafting to the next level by getting new project ideas or find a new favorite craft by seeing what's out there. Take a look at our curated list of the 10 best DIY and craft blogs for daily inspiration and endless knowledge.
A Beautiful Mess – Sisters Elsie and Emma run this hugely successful blog, which includes tons of craft projects, from jewelry and fashion to decor and DIY skincare. There are also tons of yummy recipes to help you live a well-rounded, crafty lifestyle.
Design*Sponge – Design*Sponge is a popular website that also encompasses topics like travel and shopping, but their DIY section is a treasure trove for crafters. Whether you want to make some new shelves to spruce up your house or create the perfect paper flower arrangement for your next dinner party, there's no shortage of advice and inspiration.
Craftsy – Gardening, woodwork, cake decorating…You name it and Craftsy has an article about it—it also runs online classes, so there might even be a course on the topic of your choosing. On top of all of that, Craftsy also sells supplies, so it's easy to stock up on things to complete your favorite project. And if you're simply looking for tips on how to improve, whether it's advice on how to make a straight topstitch or learning new watercolor techniques, you'll find that here as well.
Heart Handmade – This site features tons of DIY tutorials in areas like lettering, crochet, and papercraft. You'll also find decorating tips to spruce up your home or office.
Hello Hydrangea – Lindsey Campbell's brand and blog is all about weaving. She runs online courses and even has a book, Welcome to Weaving, the Modern Guide. Hello Hydrangea's blog is a fantastic resource for tips on how to improve your weaving techniques.
Honestly WTF – This lifestyle blog has a great DIY section with tutorials on everything from latch hook wall hangings to embroidered straw bags. Always fashionable and current, the projects are also quite detailed and easy to follow.
Paper & Stitch – Broken up into useful categories like Weekend Projects, Paper Goods, and Holidays, there's tons to explore on Paper & Stitch. The site also has an extensive section about interior design, broken down by style, color, interest, and room.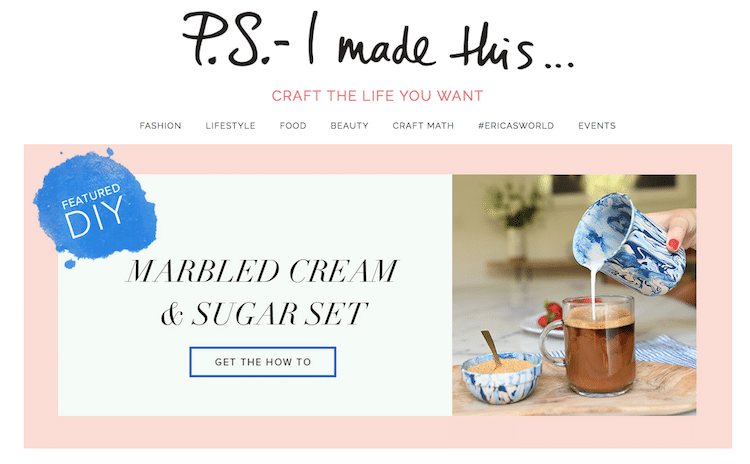 P.S. – I Made This – Created by Erica Domesek, this site is designed to "inspire and empower people around the globe to cultivate their inner-creativity and embrace the ever-growing do-it-yourself (DIY) way of life." Launched in 2009, there are hundreds of projects with step-by-step instructions to browse through.
Purl – This New York City needle crafting store has a great section for projects on its website. If you are into knitting, crocheting, felting, or any form of needlework, you'll find endless inspiration in their easy to follow "create" section.
The Spruce Crafts – Broken into sections like needlecrafts, papercrafts, DIY, and beadwork, this site is a wonderful resource for both novice and advanced crafters. Newbies will enjoy articles like 15 Stitches Every Embroiderer Should Know, while more experienced readers will appreciate all the free patterns and project advice.
Related Articles

:

Top 25 Art Blogs to Jump Start Your Creativity

13 of the Best Creative Podcasts Offering Great Advice and Endless Inspiration

15 Top Photography Blogs to Elevate Your Craft and Inspire Your Work

The post 10 Best Craft Blogs for Tutorials, Tips, and Daily Inspiration appeared first on My Modern Met.

Source: mymodernmet.com