After a while of living in a space, it's easy to ignore light fixtures that were left behind by the previous inhabitants. It's like we develop blinders to them, especially when you just can't afford to change them all out at once. When you finally bite the bullet, though, it completely changes the look and feel of a space making it almost hard to remember what was there before. As someone who recently swapped out original lights for fixtures that are more modern, I can attest to how life changing it is, especially when spending so much time working from home. If you're looking to make a statement or two in your own space, check out these bold and modern pendant lights that will make you love your home again.
>>> LLOYD Pendant by Puik Design
Available in Black or Natural, these pendants are made by hand using a traditional method that hardens and molds leather. Each is finished with a stitched detail down both sides.
>>> Moon10 White Pendant Light by graypants
The smallest of the orb-shaped fixtures, the white Moon10 is 10″ in diameter (hence its name) and handcrafted from laser cut cardboard with open edges revealing the corrugated pattern from each layered piece. Moon10 also comes in Natural cardboard, as well as in larger sizes, including Moon14 and Moon18, and can be hung solo or in clusters.
>>> Royyo Pendant by Koncept
Royyo's minimalist design includes a discrete wiring system and shallow disc shade resulting in a sleek silhouette. The Royyo Pendant comes in four colors – Matte Black, Silver, Matte White with Gold and Chrome – and as a single pendant or seven other variations in a Linear design with 3, 5 or 7 pendants, or a Circular design with 3, 6, 13 or 19 pendants for a massive chandelier.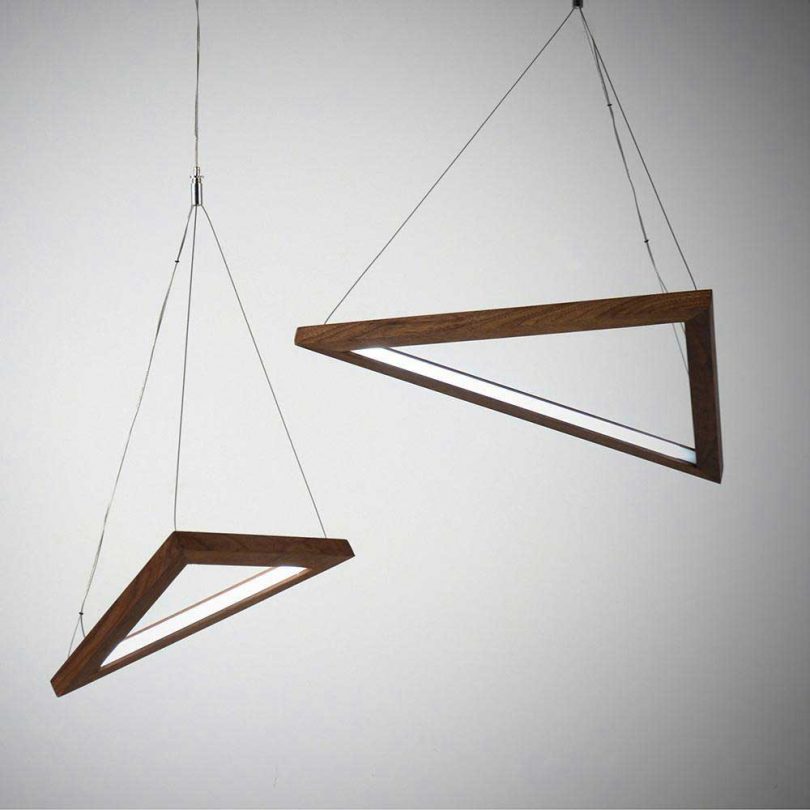 >>> The Triangle Pendant by hollis+morris
For a geometric look, this Small or Large triangular shaped pendant emits a soft LED glow from its solid wood structure, which can be hung at any angle. Available in W. Oak Black, W. Oak Natural, W. Oak White and Walnut, the fixture stands out on its own while also creating a sculptural immersive environment when grouped together.
>>> Spring Brass Small Pendant by Tom Dixon
Spring comes three sizes – Small, Medium and Large – featuring bands of brass-finished stainless steel twisted like a whisk. The pliant ribbons allow the user to adjust the fixture for various silhouettes.
>>> Hashira Cluster Pendant Lamp by MENU
MENU's Hashira Collection takes a modern Nordic approach to traditional rice paper lanterns, blending East and West, striking the perfect balance of proportion, simplicity and character. The Cluster Pendant Lamp comes in a Small or Large size, which complements the remaining pieces in the collection: the Hashira Pendant Lamp and the Hashira Floor Lamp.
>>> Denny Natural Pendant Light by graypants
Measuring in at 14″ in diameter x 25″ high, the Denny fixture is designed to make a bold statement while providing a warm, intimate feel as light escapes through its corrugated edges. It's also available in a White version.
>>> GROOVE Pendant Light by Puik Design
GROOVE comes in a Small or Large size and in four colors – Gray, Black, Green and White – making it a great choice for most any space. Its silhouette has a classic aesthetic with a modern twist that works individually or in a grouping of various sizes and colors.
>>> Umanoff Pendant by MENU
A combination of brass and walnut wood, this striking pendant illuminates surfaces below and through its perforated inner shell with a soft glow.
>>> Beat Wide Pendant LED White by Tom Dixon
Beat Wide pops with a glossy white exterior finish and a contrasting warm, golden interior that's beaten to refract and reflect soft, warm light. If white isn't your color, Beat Wide also comes in Matte Black and Brushed Brass.
>>> For more pendant light options, head to the Design Milk Shop! <<<

Source: design-milk