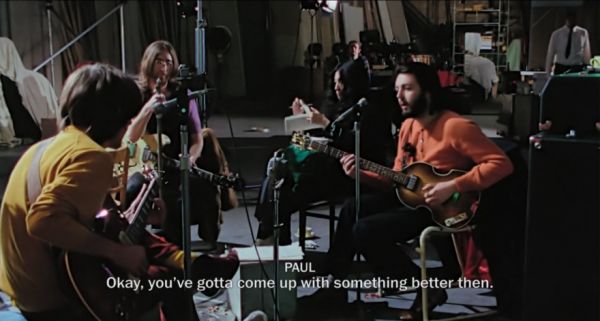 The documentary series The Beatles: Get Back took a look at the recording of the Beatles' 1970 album Let It Be. Over about eight hours, we got an in-depth look at how the band wrote and recorded the entire album in three weeks. That feat would not have been possible if the band members didn't know each other thoroughly or hadn't been working together for years. The collaborative process of writing songs worked because of unwritten rules that John, Paul, George, and Ringo, as well as their producers and crew followed. Sure, there was conflict, but not nearly as much as could have been for such a project. Tom Whitwell identified some of those rules from watching The Beatles: Get Back, and explains them for us. The most important is how to get your two cents in without alienating your collaborators.
1. The 'yes… and' rule

The first rule of improvisation (and brainstorming) is "yes… and". When someone suggests an idea, plays a note, says a line, you accept it completely, then build on it. That's how improvisational comedy or music flows. The moment someone says 'no', the flow is broken. It's part of deferring judgement, where you strictly separate idea generation from idea selection.

As they slog through Don't Let Me Down, George breaks the spell. Instead of building and accepting he leaps to judgement, saying "I think it's awful." Immediately, John and Paul lay down the rules: "Well, have you got anything?" "you've gotta come up with something better".

Don't judge, build.
Read all ten rules for productivity and brainstorming in a group at Medium. -via Kottke
Source: neatorama