For those of us who don't particularly enjoy organizing, a fresh, new storage vessel offers just the right amount of motivation. However, most run of the mill storage baskets – with their blasé clear plastic bodies and industrialist latch closures – leave little to be desired. Instead, go for storage solutions that look the part, allowing you to organize and decorate your space at the same time. To inspire your next bout of reorganization, we've curated the ultimate collection of design-forward storage that doubles as modern decor. Find more in the Design Milk Shop!
With its ultra-modern hexagonal shape, Tat Design's Fruit Basket turns your produce into a sculptural work of art. Composed of three identical acrylic pieces, the fruit basket is as fun to put together as it is to look at – effortlessly slotting into place. The minimalist, transparent finish ensures that the Trièdre Basket will complement your existing home decor, while delivering stylish storage for fruits, veggies, and bread!
$59
Shop Now >>
Dutch designer Frederik Roijé's cleverly designed Paper Pet is the magazine storage solution you didn't know you needed. Made in the Netherlands using powder-coated steel and shaped to look like man's best friend, this stylish magazine holder adds a fun, contemporary look to a living room or home office. Wherever you put it, the Paper Pet is sure to make you smile!
$190
Shop Now >>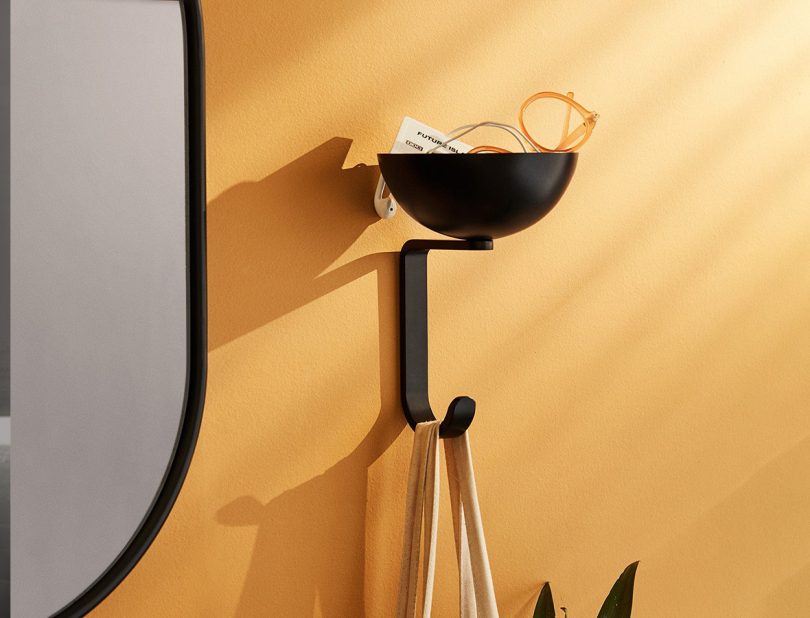 Eliminate surface clutter and spruce up your walls with Northern's best-selling catch-all dish and wall hook hybrid. The Nest Wall Hook is perfectly sized for hanging coats, bags, and dog leashes, and the bowl on top offers safe keeping for small items like your wallet, keys, loose change, or transit cards. It's the perfect entryway storage solution! The matte, aluminum finish comes in a range of colors for a modern, Nordic look – though we're partial towards the classic black.
$59
Shop Now >>
These new handmade storage baskets by Knots Studio feature a unique woven design made of plush, vegan suede and are held together by beech wood spines – bringing a stylish combo of textures to any space. The nautical inspired shape adds a sculptural look to your shelf or entryway, shrouding your clutter in a luxe, unique form. For a pop of color, check out their golden yellow and army green options.
$177
Shop Now >>
Graf Lantz's Housewarming Set addresses the everyday items we tend to overlook when it comes to home organization and storage. Complete with a tissue box cover, small Bako Bin, and round trivet, the set uses merino wool felt and vegetable tanned leather trims to add warm, modern textures to your space. It makes for a great housewarming gift too, of course!
$91
Shop Now >>
This multicolored storage tin is an easy way to brighten up your kitchen or workspace. Made of powder-coated tinplate with an airtight lid, the Sowden Tin is perfect for storing coffee and other dry ingredients in your kitchen or supplies and candies on your desktop (is desk candy not a thing?). Available in a range of contrasting color schemes that add a touch of whimsy to shelves and countertops, the only thing better than one Sowden Tin is several Sowden Tins.
$10 each
Shop Now >>
This set of Open Spaces Nesting Trays includes one small wooden tray, a medium hard plastic tray, and a large aluminum tray – bringing a medley of colors and textures to countertops and home surfaces. Keep them at your entryway to store your wallet, keys, and other essentials, at your bedside for jewelry and nightly must-haves, in your bathroom for toiletry storage, or in your kitchen for your most used spices and cooking oils.
$48
Shop Now >>
These modern nesting baskets are made of 100% recycled rubber, giving each a totally unique speckled pattern you'll love to see around the house. The modern brass accents give each basket a more luxurious look, without feeling over the top – perfect for storing all of your odds and ends, from small items at your bedside and tech accessories, to linens and desktop supplies.
$187
Shop Now >>
Bendo's paperclip-inspired wall hook is a Design Milk community favorite for good reason. It conveniently stores everything from coats, towels, and bags to dog leashes, scarves, and hats, all while adding a splash of color and playfulness to your walls. We recommend mixing and matching colors to make a fun, decorative statement! Checkout this TikTok from interior decorator Dani Klaric for more Clip storage ideas.
$55
Shop Now >>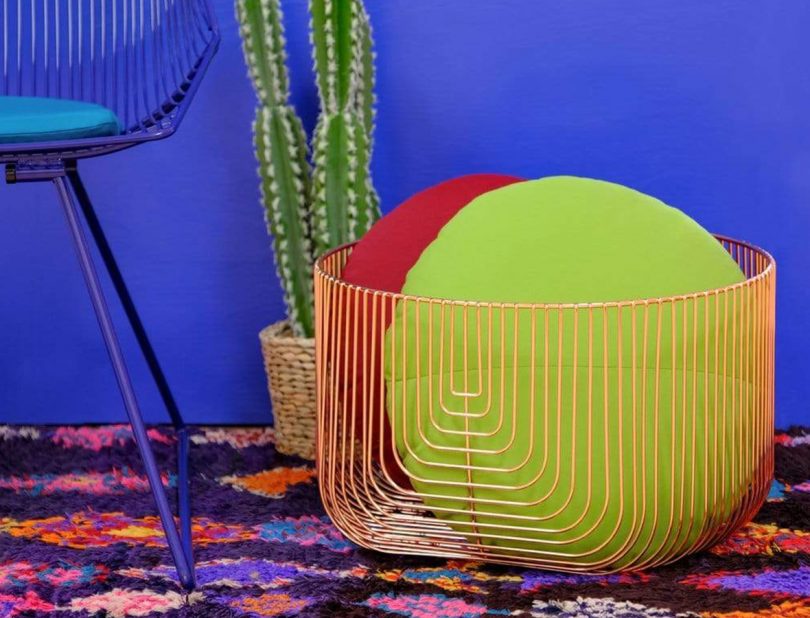 While popularly known for their sculpted wire furniture, Bend Goods storage baskets are an organization must-have. For those who love a metallic moment, it comes in copper and gold finishes – and a classic white for a modern, minimalist look. The 18" size is perfect for storing extra throw blankets and couch cushions, toys, towels – you name it. Even better, the curved iron design makes for a cool way to incorporate the curvy design trend into your space!
$290
Shop Now >>
Shopping any of our design-driven storage? Share your haul and tag us @designmilk to be reposted to our Instagram! 
This post contains affiliate links, so if you make a purchase from an affiliate link, we earn a commission. Thanks for supporting Design Milk!
Source: design-milk