Whether you rent or own your home, chances are the thought of a full-scale bathroom renovation is more than a little daunting. Have no fear, you can elevate the look and feel of the space with only a few minor, but key bathroom accessories – tiles, fixtures and iron-clad leases be damned. Here's how:
A Statement Shower Curtain
Marfa Sky Shower Curtain by Quiet Town
Arguably the first detail to catch your eye, the shower curtain is hands down the most impactful design element in your bathroom. Especially if painting isn't an option, the perfect shower curtain can easily shift the light and tone of the room. The Marfa Sky curtain by Quiet Town does just that. The quilted design pulls inspiration from Josef Albers' abstract works, featuring interactions of earthy canvas, cool sky blues and grays, and soft peach – a modern representation of the prairies it's named after.
An Artfully Undetectable Bin
Pedal Bin by Eva Solo
Trash. Everyone has it, and no one wants to see it. Perhaps an unexpected addition to this list, the bin is a small detail that we tend to overlook until it's gone wrong. The right bin should be: minimal, hands-free and covered – always covered. This Pedal bin by Eva Solo ticks all of the boxes with clean lines and a modern shape to boot.
Textured Bath Linens
Guild Waffle Terracotta Four-Piece Towel Bundle by Slowtide
The ideal bath towels should be equal parts stylish, comfortable and able to withstand the test of time. Shop with only aesthetics in mind and you risk ending up with beautiful towels you hardly want to use – making the balance of function and form essential. This towel bundle by Slowtide deliver a plush feel, lightweight and absorbent design, and durability over time – all while bringing additional texture and rich colors to your space.
A Bathmat with Main Character Energy
Prescott Storm Bath Rug by Quiet Town
Think about the aesthetic weight and unifying appeal area rugs have on your living spaces – why shouldn't your bathmat get the same treatment? Quiet Town bathmats are too beautiful to be stowed away or slung over your tub – the craftsmanship and landscape inspired design demand to be seen and appreciated by all your house guests. Every mat is fast-drying, washer-friendly and available in a variety of styles.
Simple Soap Storage
Concrete Soap Dish by Pretti.Cool
A concrete soap dish like this one by Pretti.Cool is a must-have for extending your soap's lifespan without any of the grimy residue. Made with recycled materials, every dish boasts a unique marbled design, captured in a simple shape that brings a modern minimalist edge to your bathroom countertop. What could be better? Pairing it with an equally beautiful bar soap – like this one by Bell Mountain Naturals, or this Fredericks and Mae bar.
A Fun (Never Fun House) Mirror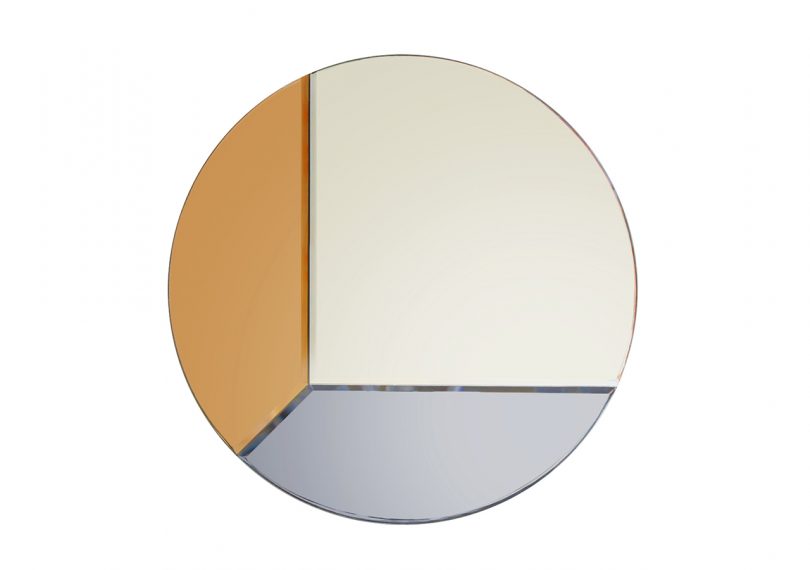 Rose Mosaic Round Mirror by cloudnola
A modern take on the traditional round mirror, the cloudnola Mosaic Mirror features geometric tinted panels that not only add interest, but they're also a great way to incorporate color (you can also find it in gold) into the space in a subtle, yet playful way. If your bathroom is lacking in the lighting department, bonus mirrors are a great way to make the space feel brighter and roomier. The Mosaic Mirror's petite size makes it an easy addition to your bathroom that will speak volumes.
Sleek Hooks
PYRAMID 6 Pegs – Birch by MARdiROS
Are you team towel rack or peg rail? This Pyramid Peg Rail by MARdiROS seems to have picked sides for us. The birch peg unit keeps towels, robes and clothing hanging stylishly in one place without falling thanks to its angled structure. The black pegs on the PYRAMID rail give the unit an organic, modern look, allowing the natural texture of the birch wood finish to shine, while still being understated enough to let your linens do the talking. It's also available in a walnut finish.
Unifying Art
Cellardyke Yellow Art Print by Tom Pigeon
A modern representation of the views from the East coast of Scotland, the Cellardyke Print by Tom Pigeon delivers a dose of eye-catching simplicity to your bathroom. We love the use of minimal shapes and bold yellow color in this screen print for adding warmth to the bathroom wall. It's also available in pink and blue colorways so you can pick the one that's right for your decor style.
Quirky Touches
LOO Toilet Paper Roll Holder by Bendo
A reviewer said the Bendo LOO Toilet Paper Roll Holder, "makes every toilet trip interesting," and we couldn't agree more. The delightful, coiled shape of the LOO adds a touch of whimsy to your space while still being functional and easy to live with – making it a Design Milk best-seller. Available in a variety of neutral finishes, the LOO Toilet Paper Roll Holder is a fun and modern take on a staple bathroom accessory.
A Signature Scent
Refillable Rainbow Glass Mind + Body Wash by Bathing Culture
The Bathing Culture Mind + Body Wash features a colorful (and refillable) glass bottle that will undoubtedly spruce up the look of your tub, shower or bathroom counter. Made with natural, certified organic ingredients, this all-purpose soap will leave guests' hands feeling clean and smelling like a restorative forest retreat. The soap's cheerful rainbow bottle and lingering herbal scent are sure to rake in the compliments from your houseguests – making this wash a must-have bathroom accessory.
>>> For more modern bath accessories, visit the Design Milk Shop here! <<<

Source: design-milk