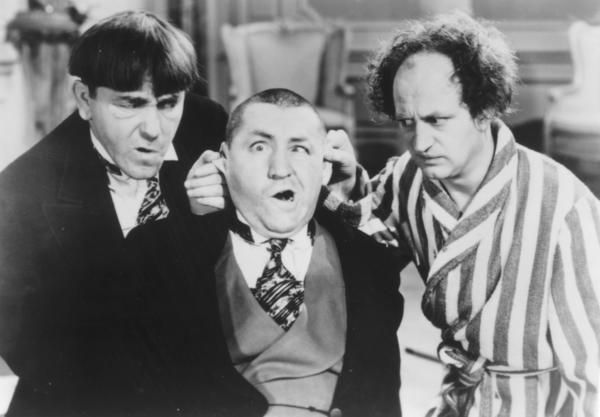 We've posted a lot about the Three Stooges, but there's always more trivia to learn because A. there were more than three of them -quite a few Stooges, eventually, and B. they led quite interesting lives. Here's a sample:
4. THEIR SIGNATURE EYE POKE WAS CULLED FROM A REAL-LIFE INCIDENT.

In Stooge body language, nothing says "I despise you" more efficiently than jutting out the ring and index fingers in a "V" formation and jabbing them into someone's eyes. This trademark maneuver was apparently based on a real incident. Once, when the gang was playing cards, Shemp became enraged when he believed Larry Fine was cheating. Shemp stood up and poked Larry in both eyes. An observant Moe filed it away for future use onscreen.

5. THEY WORKED CHEAP.

Despite their incredible popularity starring in a series of shorts for Columbia Pictures—they worked a total of 23 years for the studio—Columbia boss Harry Cohn was notoriously stingy. Every year, the Stooges would be forced to renegotiate their one-year contract, with Cohn asserting that the shorts division of the company was not profitable. Believing the spin and fearing Cohn's alleged criminal connections could be problematic if they made waves, the Stooges worked for a relative pittance most of their careers. When Columbia shut down their shorts department in 1957, the men were fired.
Read more trivia about The Three Stooges at Mental Floss.
Source: neatorama