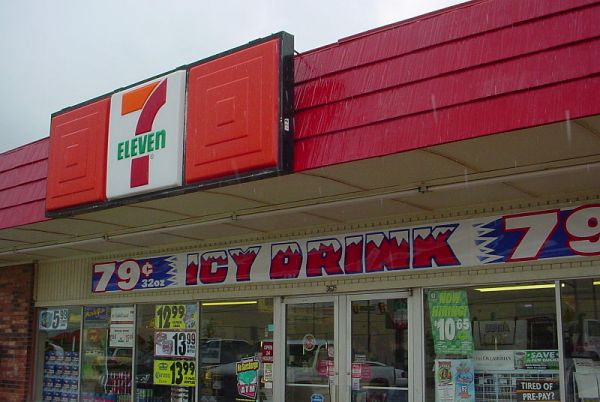 Today is 7/11 on the American calendar, which means your local 7-Eleven store is celebrating by giving away free Slurpies from 11AM to 7PM. Australians, who write the date differently, will get their chance on November 7th. In honor of the occasion, you might want to learn some things about the 7-Eleven chain of convenience stores. This was the business that invented what we call the convenience store in 1927, but the name didn't come about until 1946, as a way to advertise how late they stayed open.
2. 7-ELEVEN'S NEW SCHEDULE WAS UNHEARD OF AT A TIME WHEN GROCERY STORES CLOSED MUCH EARLIER IN THE EVENING.

No one thought there would be demand for a store that was open 24/7—until one night in Austin in 1962. The local 7-Eleven had seen such a rush of students following a University of Texas football game that they were forced to stay open until dawn the next day. Sensing a trend, the store continued to stay open all night on the weekends, and soon more and more locations adopted the new schedule as well.
So the name meant something, but for only about 20 years. Now most 7-Elevens stay open all night. Find out more about 7-Eleven at Mental Floss.
(Image credit: Doxvoom)
Source: neatorama