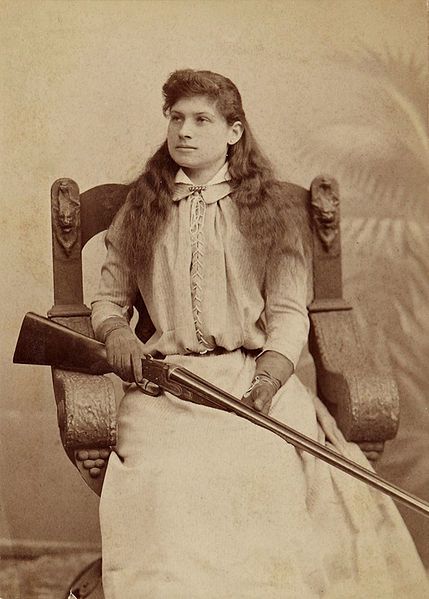 Phoebe Ann Moses was born on this date in 1860. You know her better as Annie Oakley, sharpshooting star of Buffalo Bill's Wild West Show. There was a lot more to her life than what people saw in the show, beginning with her peculiar childhood experiences.
1. SHE MADE HER FIRST SHOT AT 8 YEARS OLD.

Born on August 13, 1860 in a rural part of western Ohio, Phoebe Ann Moses grew up poor. Her father's death in 1866 meant that she had to contribute to help her family survive, so she trapped small animals such as quail for food. At eight years old, she made her first shot when she killed a squirrel outside her house. "It was a wonderful shot, going right through the head from side to side. My mother was so frightened when she learned that I had taken down the loaded gun and shot it that I was forbidden to touch it again for eight months," she later said.

2. SHE USED HER SHOOTING SKILLS TO PAY OFF HER MOM'S MORTGAGE.

Despite Oakley's top-notch shooting skills, her widowed mother struggled to make ends meet. She sent Oakley to work for another family in exchange for her daughter getting an education. As a teenager, Oakley returned home (after working as a servant for an abusive family) and continued to hunt animals. She sold the meat to an Ohio grocery store, earning enough money to pay her mom's $200 mortgage. She later wrote: "Oh, how my heart leaped with joy as I handed the money to mother and told her that I had saved enough to pay it off!"
That's just the beginning. Read about Annie Oakley's life, from her marriage at 16 to her work in World War I at Mental Floss.
Source: neatorama