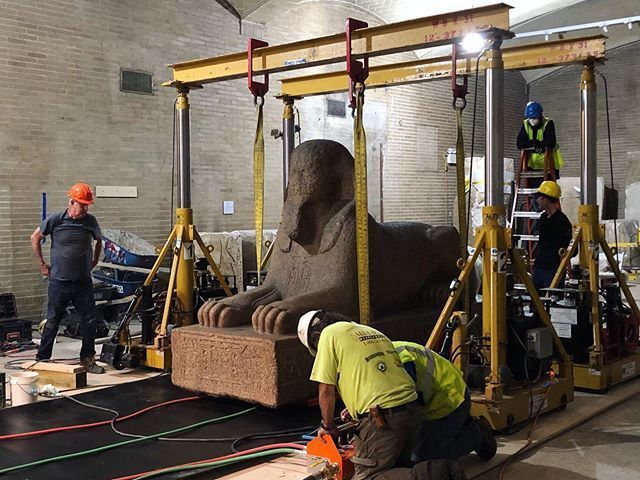 Penn Museum in Philadelphia had the epic task of relocating the 12.5 ton sphinx to its newly redesigned entrance hall.
Moving the iconic statue—which is the largest sphinx in the western hemisphere—takes more than a dolly and a few burly movers. The carving was first 3-D scanned to determine its weight and density to make sure the hulking beast could be properly rigged. A safe, manageable 250-foot route was then mapped that took the sphinx through doorways, out a second-story window, through a courtyard, and back through another window on the other side, Brian Houghton, the museum's building engineer, tells WHYY's Peter Crimmins.
In 1912, the Sphinx of Temple of the God Ptah in the ancient city of Memphis was excavated by archaeologist W.M. Flinders Petrie. One of his backers, Penn, wanted the statue. So, the Sphinx was wrapped in burlap and shipped overseas to the Penn Museum. As of the present day, the Egyptian government has not called for its repatriation.
Learn more about the Sphinx at the Smithsonian.com
Image: Penn Museum
Source: neatorama