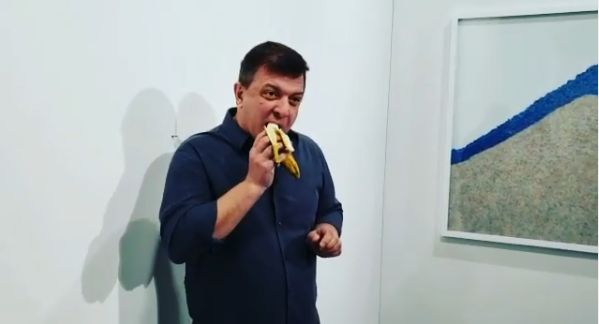 Artist Maurizio Cattelan duct-taped a banana to a wall at Art Basel Miami Beach and sold the artwork for a tidy sum. But that's just the beginning of the story. Next, performance artist David Datuna came along and ate the banana!
Gallery owner Emmanuel Perrotin was about to head to the airport when he heard that the banana was eaten. He darted to the space, clearly upset. A fair goer tried to cheer him up and handed him his own banana.

Perrotin and a gallery assistant re-adhered the borrowed banana to the wall just after 2 p.m.
Those involved offered a convoluted explanation of why eating the banana did not diminish the value of the artwork. Read about the incident, and see videos, at the Miami Herald. -via Metafilter

(Image source: David Datuna)
Source: neatorama