Not only are we about to roll into a new year, we're rolling into a new decade. As hard as it is to believe, it's happening and we better embrace. It's come the time when we must prep for 2020 with a brand new calendar to help keep us and our families on schedule and in sync. To help out, we rounded up 2020 modern calendars to get the ball rolling.
Typodarium 2020 \ $24
A calendar favorite every year, the Typodarium daily desktop calendar delivers 366 fresh fonts from 244 designers from 33 countries making this a true global effort.
2020 Wall Art Calendar by Poketo \ $28
Featuring bold, modern graphics, Poketo brings their playful magic to calendar form where each month looks like a work of art you can later frame.
2020 Calendar by Slowdown Studio \ $20
Known for their artist-designed throw blankets, Slowdown Studio expands again with another calendar featuring the art work of the 2019 Slowdown Art Comp winners.
Appointed 2020 Wall Calendar \ $28
Perfect for the ultra minimalist, this simple black and white calendar features bold graphics and a book cloth binding accented with brass foil.
2020 Wall Planner by Dowse \ £10.50
A limited edition wall planner designed and printed in Brighton by Dowse showing the full year at a glance so you can stay on top of birthdays, holidays, and appointments.
2020 Isometric Risograph Calendar by Paper Pusher \ $28
The always popular eye-catching Risograph calendar printed on premium recycled kraft paper in a combination of just three inks: Fluorescent Pink, Aqua Blue, and Yellow.
2020 Stendig Wall Calendar by Massimo Vignelli \ $40
One of the most iconic calendar designs of all time, the Stendig lives on many walls making a bold, graphic statement at its 4′ x 3′ size.
Today by Matthew Hoffman \ $36.50
A compact desktop calendar featuring a new thought each day with phrases ranging from inspirational to humorous for a little daily inspiration.
Fabric Calendar 2020 by Lotta Jansdotter \ $30
Since 2001, Jansdotter has designed a fabric calendar and this year's edition was inspired by the work of artist Hilma af Klimt whose work she discovered at the age of 16.
2020 Year De Stijl Planner by Jo Robyn Elbourne \ $21.91
Giving nod to the Dutch art movement, De Stijl, this wall planner features geometric shapes, a black grid, and primary colors that denote the weekends.
2020 Calendar: A3 Wall Hanger by RISOTTO \ £18.00
From Scotland's leading risograph print specialist, this playful, limited edition risograph wall calendar features a different color for each month with plenty of space to make notes.
Wall Calendar 2020 by DESIGN LETTERS \ $27
Featuring Arne Jacobsen's Vintage ABC typography, this wall calendar comes in other colors but the minimalist black and white version is perfect for those wanting to keep things simple. It also comes with text and icon stickers to help fill in the days.
2020 Color + Form Calendar by Snow & Graham \ $35
A year of rhythmic designs with simple forms and saturated colors all inspired by a love of jazz music.
2020 Mid Century Modern Wall Calendar by Mezzaluna Studio \ $18.50
Back for its 7th year, this calendar features mid-century inspired designs on thick card stock in a narrow 4.25″ x 10.5″ size. Cut the dates off when the month is over and you can have framable 4″ x 6″ prints or postcards.
2020 Light + Form Calendar by DOZI \ $27
Each month is printed on its own 8″ x 12″ sheet with a new composition of minimalist modern shapes and muted colors to enjoy.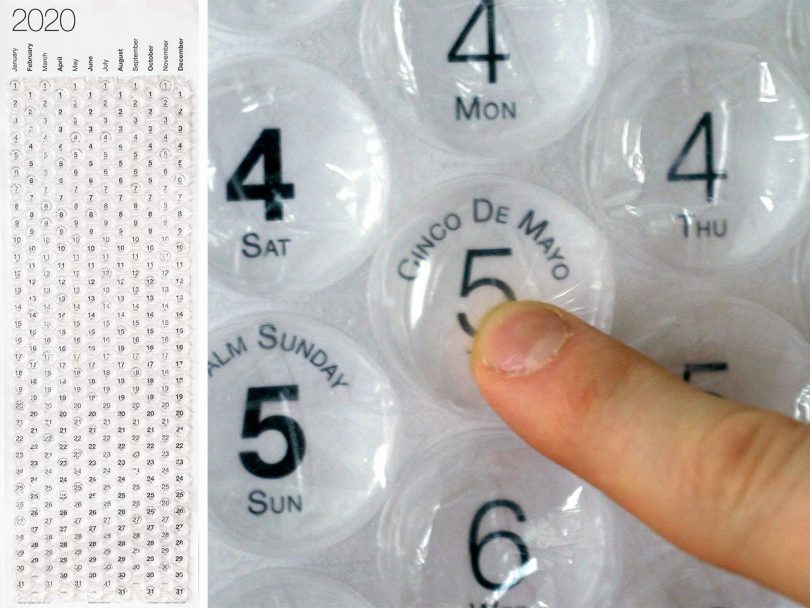 2020 Bubble Wrap Calendar \ $24.95
If simply looking at each day on the calendar isn't enough, perhaps popping a bubble will suffice. The hardest part is not popping through the entire year before it's over.

Source: design-milk