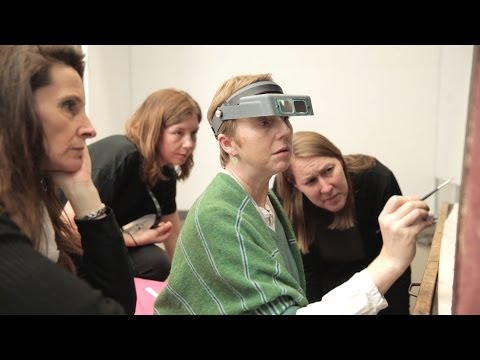 One of the biggest and most challenging restoration projects of the Tate Modern was fixing a damaged painting. Russian artist Vladimir Umanets vandalized a corner of Mark Rothko's 1958 work titled Black on Maroon in 2012. Restoring the painting to its original state took almost 18 months, and the museum labels the project as one of its most successful attempts at restoration:
Due to Rothko's layered technique, the painting's "surface is really delicate and it turned out that most of the solvent systems that could dissolve and remove the ink could potentially damage the painting as well." Patricia Smithen, the Tate's head of conservation,told The Guardian. The video above from the museum shows the art and science that went into restoring the famous work, an eighteen-month-long process that involved some reverse engineering from a canvas donated by the Rothko family.
Black on Maroon seemed like an odd choice for a protest, as a blogger at Art History Abroadwrote the following day: "'Why Rothko?'. His paintings [are] often criticised by those who don't favour their abstraction, but rarely deemed politically or socially motivated to a point that they might provoke vandalism." The presence of Black on Maroon and otherSeagram Murals at the Tate, in fact, mark an act of protest by Rothko himself (who committed suicide the day the paintings arrived at the London museum).
Source: neatorama