Either you've become one or you know someone that has, but mostly likely there's someone in your life that's become a new homeowner or moved into a new space. Whether it's a small apartment or a massive villa, moving and furnishing said space can be overwhelming and expensive, and many things can get overlooked during the process. It's always thoughtful and appreciated when you can take something off their to-buy list or give them something extra to simply decorate the space. Whatever the case, we searched around for 10 gift ideas for your friends and family members that might have changed addresses this year.
Ditto Throw by DittoHouse \ $160
Every homeowner needs a cozy throw to curl up on the sofa with and DittoHouse makes the softest ones with the greatest patterns on them. Their color combinations mixed with visually enticing patterns makes their housewares perfect for adding an artistic element to a boring piece of furniture.
Bitmap Textiles – Coasters Black/White by Susan Kare for Areaware \ $10
Susan Kare has one of the coolest histories in the early computer game where she designed fonts, icons, and graphics for the original Macintosh computers for Apple. Now, she's bringing that 80s pixelated goodness to a line of textiles, including these fun coasters, to Areaware.
Blocks EDITIONS Placemats by Chilewich \ $60 each
Chilewich continues to change the tablescape with new launches like the Blocks placemats, the first in the EDITIONS series. The color blocked mats began as a collage made from discarded materials that eventually became this collection. Saturated colors are printed in layers onto a black surface for the resulting graphic effect.
Eames House Bird via Charles & Ray Eames for Vitra \ $250
This iconic black wooden bird graces the shelves of many a modern home and it has for over 50 years, as it was a favorite accessory of the couple. With the permission of the Eames family, Vitra 3D scanned the original bird and reproduces it in solid alder wood.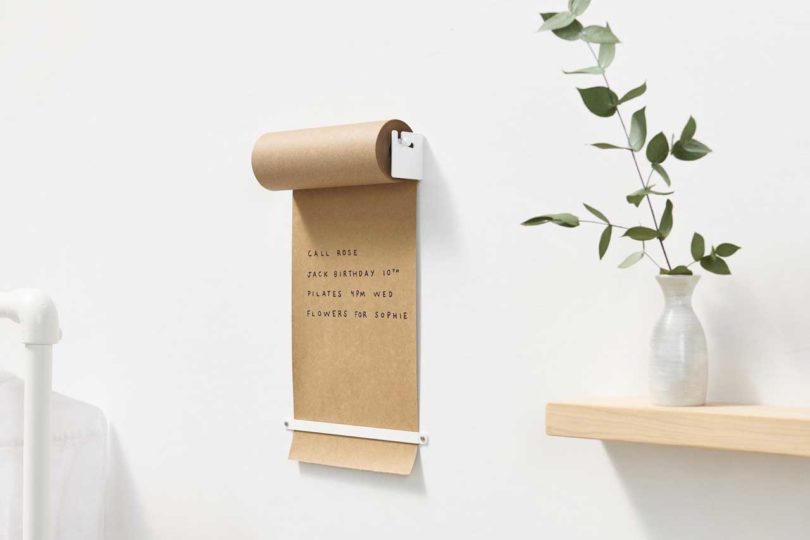 Daily Roller from George & Willy \ $120
Most likely we all know people that are list makers, whether it's to-do lists, brainstorming ideas, or a pros/cons debate. No matter the reason for writing things down, having paper handy is critical for ideas. This wall-mounted paper roller is uber handy for the kitchen, office, or by the front door, for just about anyone in your life.
Solid Brass Fire Kit by Fort Standard \ $100
There always comes a time when we need matches, to light candles, start a fire, or for an emergency when the power goes out. Oftentimes, they can get bent or wet after being thrown in a drawer, so keeping them protected and ready to go is essential. This kit is not only life saving, but it also is quite beautiful in a machined solid brass canister. The fireproof canister keeps them safe and a knurled striking pad on the bottom ensures you always have somewhere to strike the match.
Tank Decanter Set by Tom Dixon \ $180
This set is sophisticated trio that will up anyone's bar game. The smoky glass transitions to black in the mouth-blown pieces that are ready for just about any adult beverage.
Bar Bottle Opener by Marmol Radziner Jewelry \ $120
Another thoughtful addition to someone's home bar, this bottle opener is handmade from solid brass that's perforated with Marmol Radziner's signature four holes.
Birch Koppa Magazine Rack in Natural by Verso Design \ $100
Handmade from natural birch, this minimalist basket-like magazine holder boasts a contemporary Scandinavian feel and it offers the perfect spot to keep magazine's organized.
O Mirror by Minimalux \ $522
This minimalist, double-sided mirror rests upon a solid brass base for a sleek addition to anyone's dresser or bathroom counter. While offering the obvious mirror function, it also brings a sculptural moment to anywhere it's used.

Source: design-milk