We are grateful to Sum Products + CityWood for supporting this gift guide. Our partners are hand picked by the Design Milk team because they represent the best in design.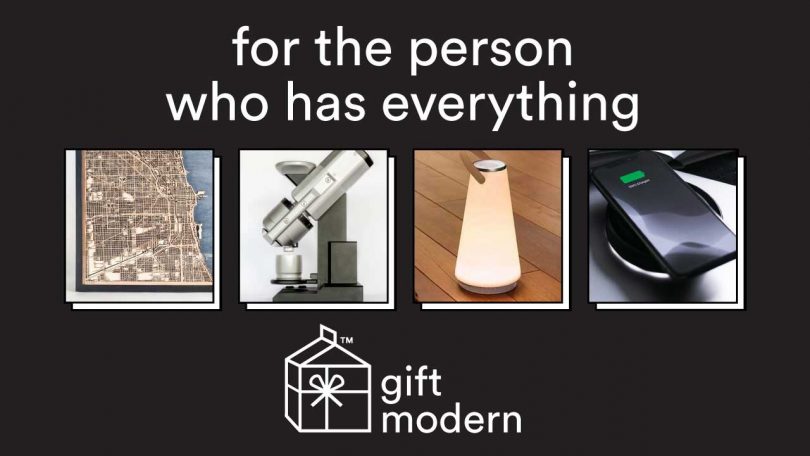 We all have that friend: the person who is hard to chose a gift for, and maybe even harder to please. The trick to gifting the person who seemingly has everything is to get ahead of the curve and seek ideas well off the beaten path – limited editions, custom designs and unexpected gifts that not only speak to the recipient's interests, but sing with a degree of thoughtfulness that it's evident you believe they were worth the extra effort.
Anni & Josef Albers: Equal and Unequal \ $150
Giving someone a book is similar to cooking a meal for another: the act reveals as much about the giver's emotions and thoughts as what we think of the recipient. It's also a whole lot easier. This magnificent new tome says a lot about creativity and partnerships – a monograph dedicated to the lives of two iconic figures of art and design, Anni and Josef Albers. Both separately and in sum, the Albers are deserving of the 750 illustrations dedicated to capturing the intimate details of their personal and creative lives. This is the sort of coffee table book that will be left out not so much to display (though you will), but also to always be available at an arm's length to revisit.
EG-1 Electric Coffee Grinder \ $3,495
I have more than a few friends who are absolutely mad about brewing the perfect cup of espresso or coffee. I'd label myself only moderately stricken by the affliction, but enough so I openly harbor a desire to try a cup prepared using this extraordinary grinder equipped with a magnetically mounted burr mechanism. The design closely resembles what I'd imagine a Star Wars Empire-approved barista might use to prepare the perfect cup for Darth "I only take my espresso black" Vader.
CityWood custom wooden map \ $199
Bring to life your memories with expertly crafted 3D wooden maps that are individually handmade and finished with precision laser cutting technology. Framed and hung on your wall as a tribute to the places where you have laughed and loved.
Pablo Designs Uma Light and Speaker \ $407 (Regularly $479. For a limited time, get 15% off select styles, including the Uma + Uma Mini. Offer expires December 6, 2020!)
The Uma produces the sort of soft, romantic lighting that can convince even the most tech-suspicious that LEDs are capable of producing warm and inviting illumination. The lantern-shaped light also happens to be a wireless Bluetooth speaker, a two-fer lantern design with touch controls and more than decent sound. Give this to the person who enjoys eating al fresco, picnics and planning outings with a little mood music and lighting.
Gromeo Fresh Air Mini \ $265
Being stuck at home, who doesn't need a little bit of fresh air right now? These wall-mountable, self-watering plant systems are like installing a living air purifier right onto the wall, filled with a selection of plants NASA found capable of filtering indoor air toxins and pollutants. They just require a watering can of H20 on a 3 week schedule, so they're also low maintenance – an unexpected gift for the person with a black thumb who aspires for a greener lifestyle.
Bang & Olufsen Anthracite Beosound 1 \ $1,900
This aluminum sheathed wireless speaker from Danish heritage audio brand Bang & Olufsen is something we'd give to the aesthete with aspirations toward audiophilia. An austere, almost architectural silhouette, the Beosound 1's minimalist, conical design is beautiful, but avoids ostentatiousness. The same could be said about the wireless and battery powered speaker's output; the speaker can get loud if desired, but sounds best somewhere in the middle range of its output capabilities.
SUM Drop & Dock Wireless Charger \ $215
The newest wireless charger from Sum Products allows you to redefine the charging experience by taking your charger with you wherever you go – whether it's out to a restaurant, by the pool or even the comfort of your living room – all without a single cable required. The Drop wireless charger features a glowing LED ring that breathes to show you when your device is charging, and can be easily recharged by setting it on the Dock charging accessory. Keep this unique device on your desk or nightstand and even plug in your iPad and Apple Watch if you'd like. Experience the ultimate charging experience from Sum.
Gogoro Eeyo 1 \ $4,599
Imagine Apple getting into the category of eBikes and it wouldn't be unreasonable to imagine their designers would produce a minimal-modern bicycle that looks and operates like this 26-pound carbon fiber feat of engineering. That eye-widening price might scare most people, but cyclists know most road bikes made of carbon fiber carry a premium. But this one adds a Copenhagen wheel powered by a 250-watt motor capable of doing all of the hard work for the rider while going uphill, good for 40 miles in "Sport" mode or up to 55 mile on "Eco." Speed demons note, the Eeyo 1 can hit up to 19 mph, so a helmet is definitely required.
Skyline Chess Acrylic New York City vs. London Edition \ $185
Give this chess set to the architecture buff prone to get into arguments about which city has the most beautiful skyline. This set includes pieces fashioned to look like London's Big Ben, London Eye, St Mary Axe, The Shard and Canary Wharf on one end, with the iconic NYC silhouettes of the Brownstone House, Guggenheim, Flatiron, Chrysler, Empire State Building and One World Trade Tower on the other side of the board.
The Oaxaca Glass \ $42 and Essential 1800 Artist Series by Okuda San Miguel \ $34
Passionate mezcal and tequila drinkers are prone to wax poetic about the unique notes and flavors of their favorite distilled expressions of the agave plant. They'll be impressed when you gift them a pair of these wide rimmed and shallow bowl glasses specifically shaped to enhance the aroma before each sip. But what are glasses without a spirit to fill with? Add a bottle of this limited edition signature Silver Tequila commemorating the 10th anniversary of the Essential 1800 Artists Series featuring six colorful, graphic designs by Spanish artist Okuda San Miguel and remind your recipient, "There's two glasses, to share!"
If you're still undecided or haven't found the right gift, there's one universal gift that is well-liked by friends, family, colleagues, and kids alike: the Design Milk gift card. Let your recipient pick out something for themselves from our shop. We're sure that they'll find something they didn't even know they wanted.
Check out the rest of our 2020 Gift Guides here!

Source: design-milk