Comic Con finally returned this year after two years of cancellations due to covid. While attendance was lower and the vibe was a little more relaxed than usual, the con certainly wasn't short on cosplayers who were thrilled to be back to one of their favorite hobbies.
All images by Zeon Santos or myself. While the con was a whole month ago, due to personal reasons, we couldn't get the images up until now. Hope you all enjoy them!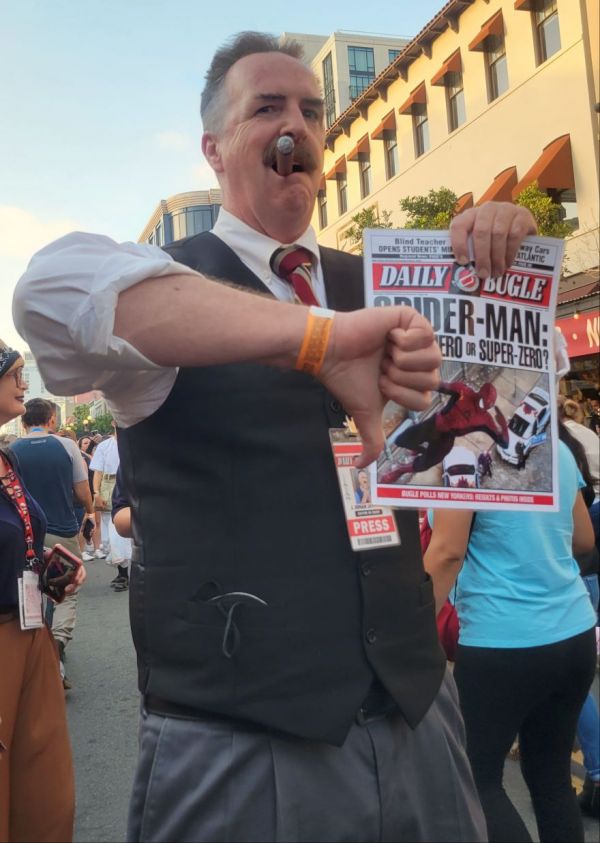 This guy was so great, when I asked him if I could get a picture, he yelled "why are you taking pictures of me when you should be out there taking pictures of Spider-Man?"
While I didn't happen to get any great pictures of Spider-Man, Zeon happened to catch this gorgeous Elektra in action.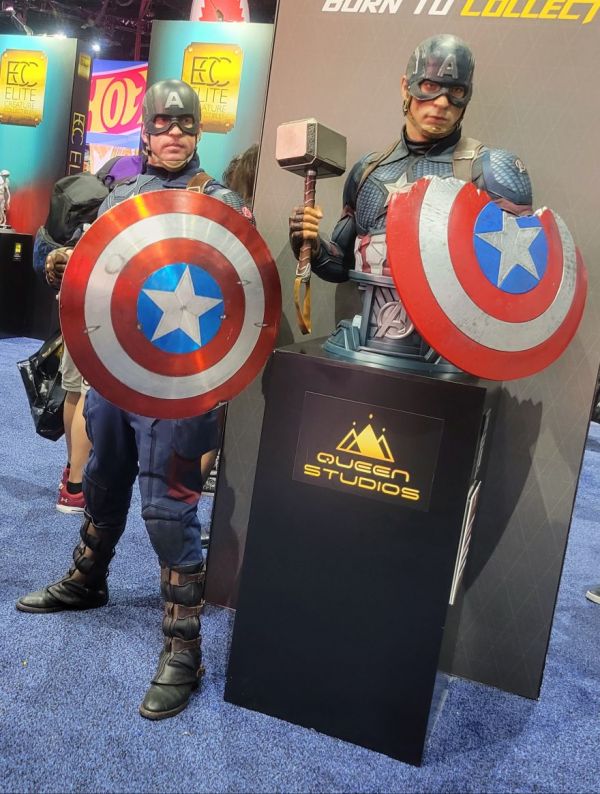 When it comes to spot-on superhero cosplays though, it was hard to beat this Captain America posed right beside a bust of the real thing.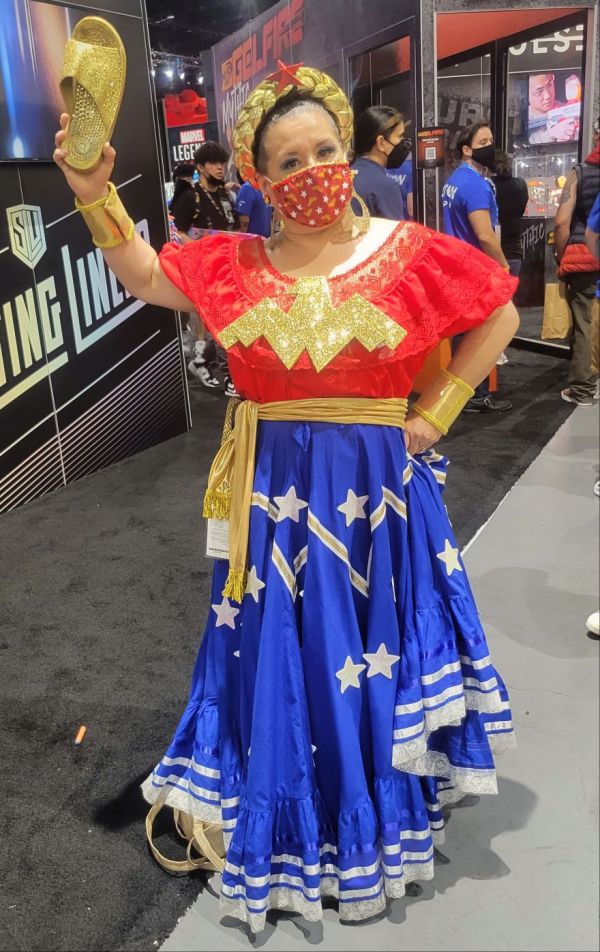 Then again, sometimes originality trumps authenticity -and it's hard not to love this chancla-throwing Wonder Woman.
I wonder how she would get along with this chimichanga-loving Deadpool.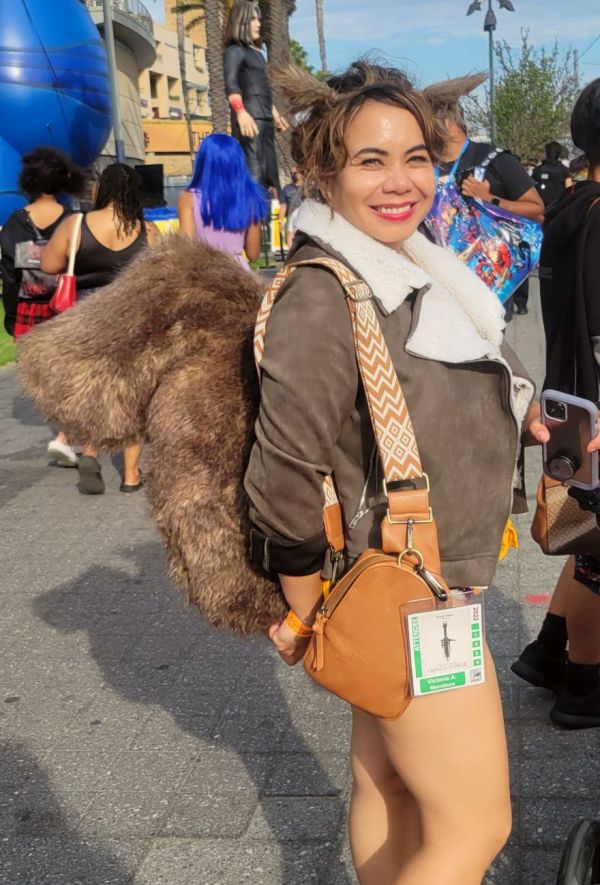 When it comes to goofy heroes, it's hard to beat a good Squirrel-Girl and this mom was rocking the look.
And these two Guardians were absolutely adorable.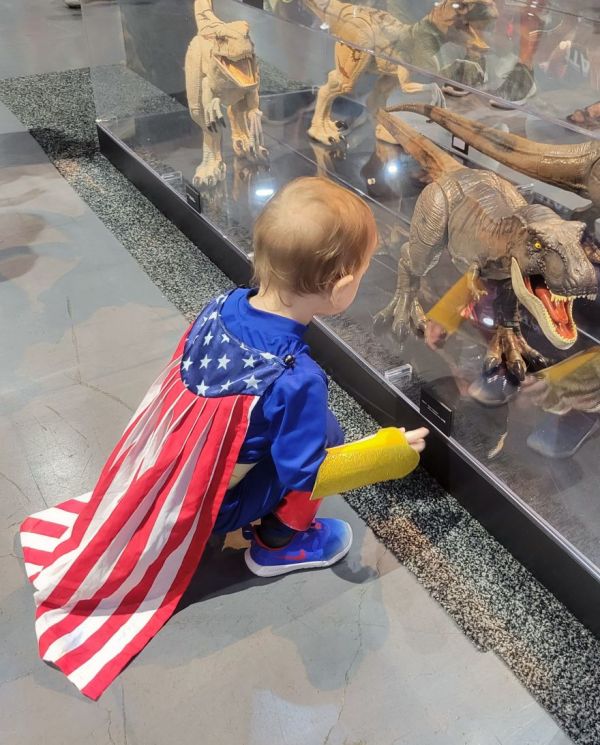 Easily the cutest hero was this tiny little Homelander though. His mom told me she thought the costume was appropriate because he was so big on nursing.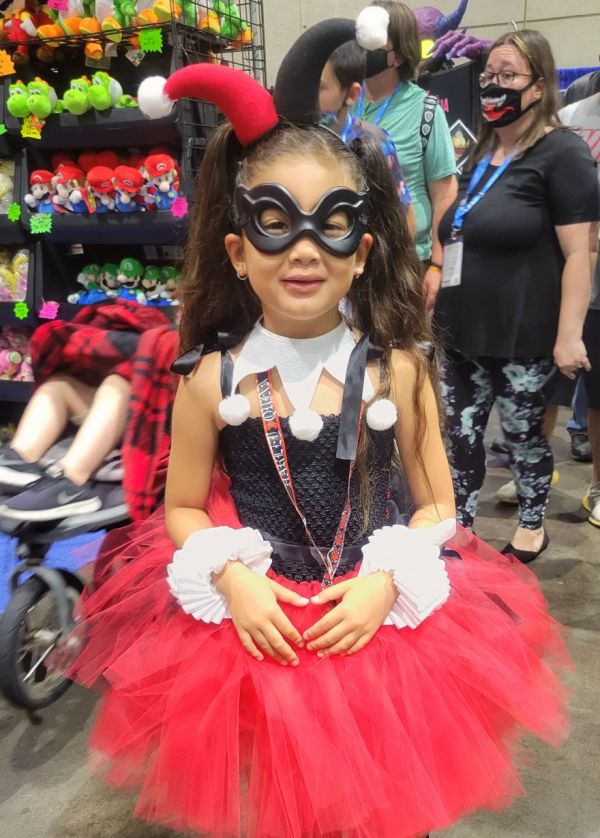 This little Harley Quinn was also smashingly adorable though.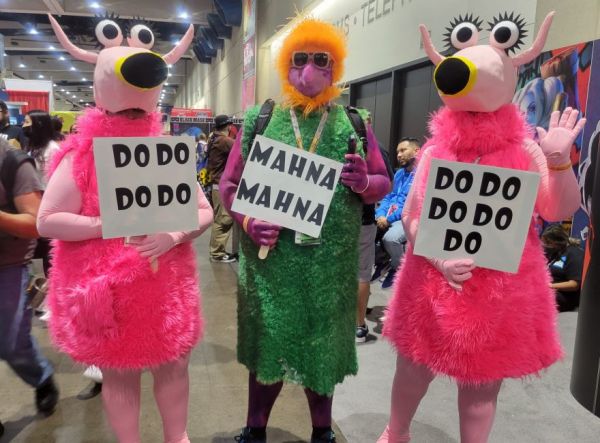 Speaking of adorable, I couldn't get enough of this amazing Mahna Mahna group!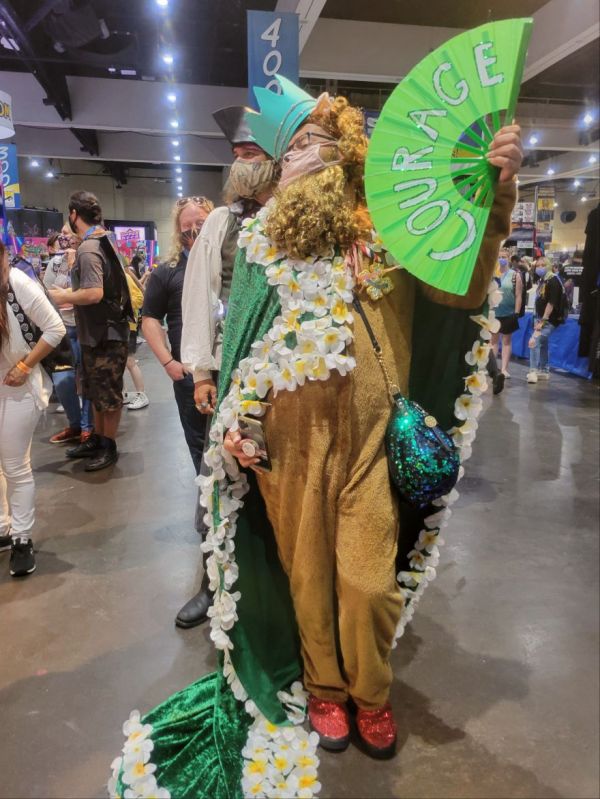 I love cosplays from my childhood faves though, and I simply adored this grrrrreat Cowardly Lion costume complete with ruby slippers.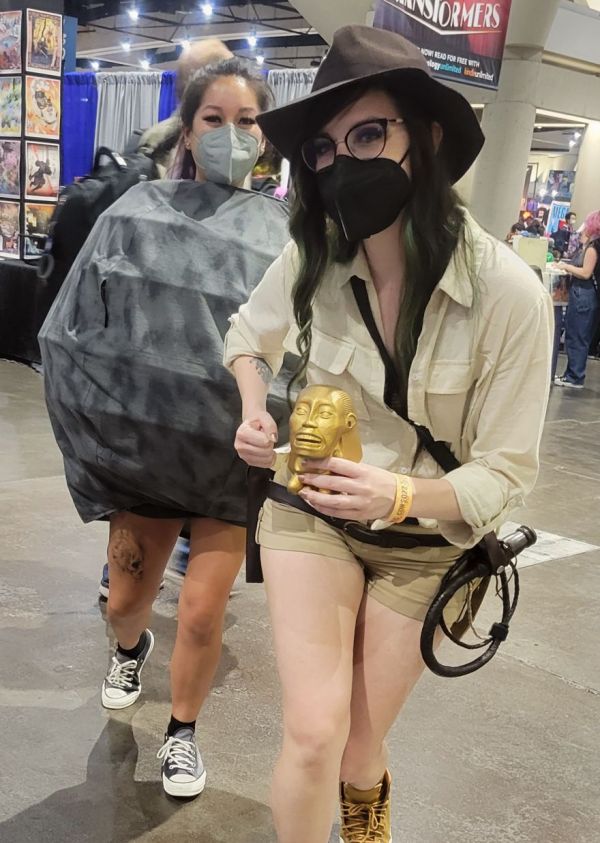 When it comes to iconic movie scenes though, it's hard to beat this brilliant cosplay pairing featuring Indiana Jones AND the legendary boulder.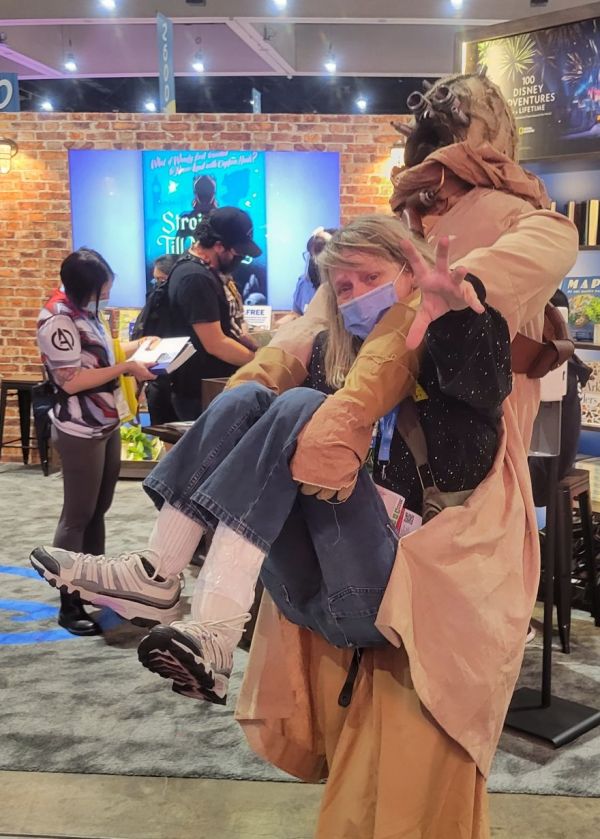 Here's another hilarious costume. I couldn't get enough of this clever take on this classic gag.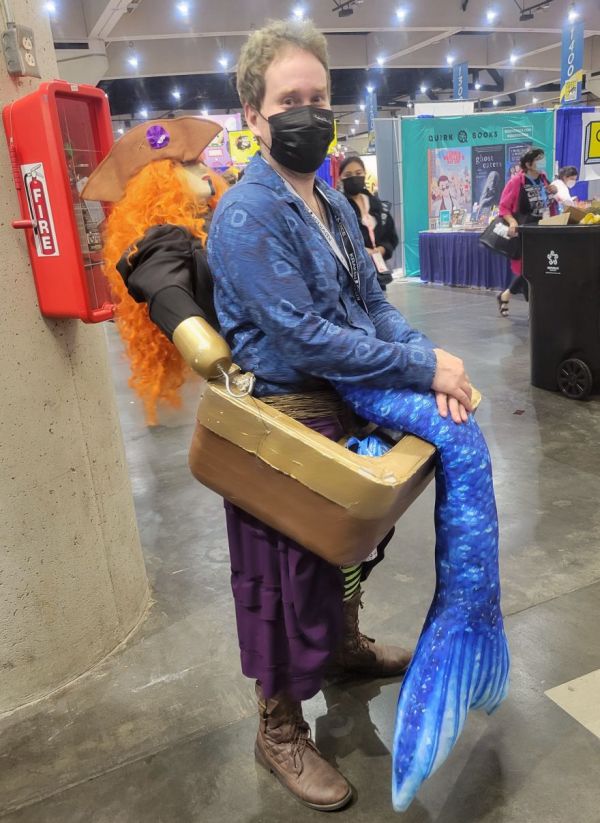 Surprisingly, I actually spotted two different versions of this type of costume. I loved that this one was a fun twist on the old pirate carrying mermaid one which usually features a female mermaid and male pirate.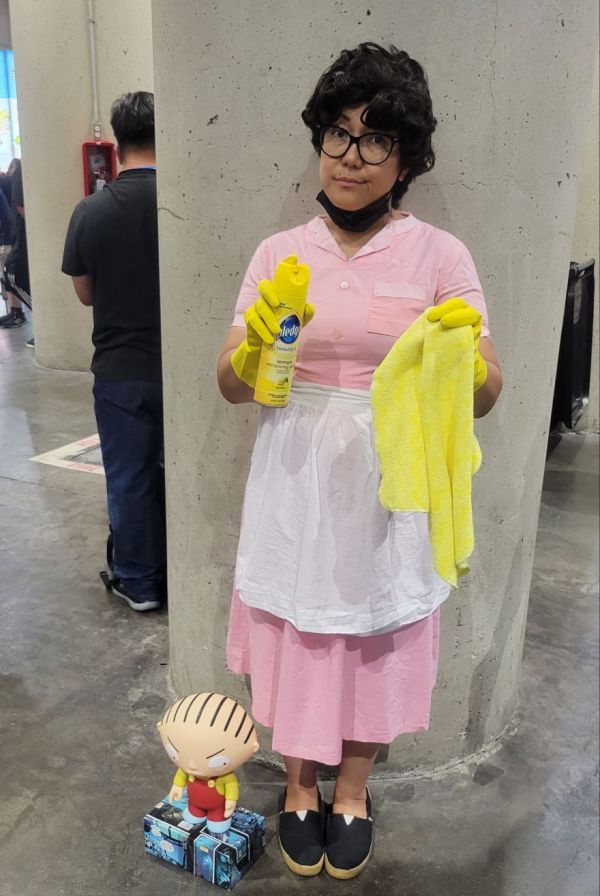 You don't need an elaborate getup to make people laugh. This simple costume was utterly hilarious, especially when she said "no, no," just like the Family Guy character when I asked to take her picture.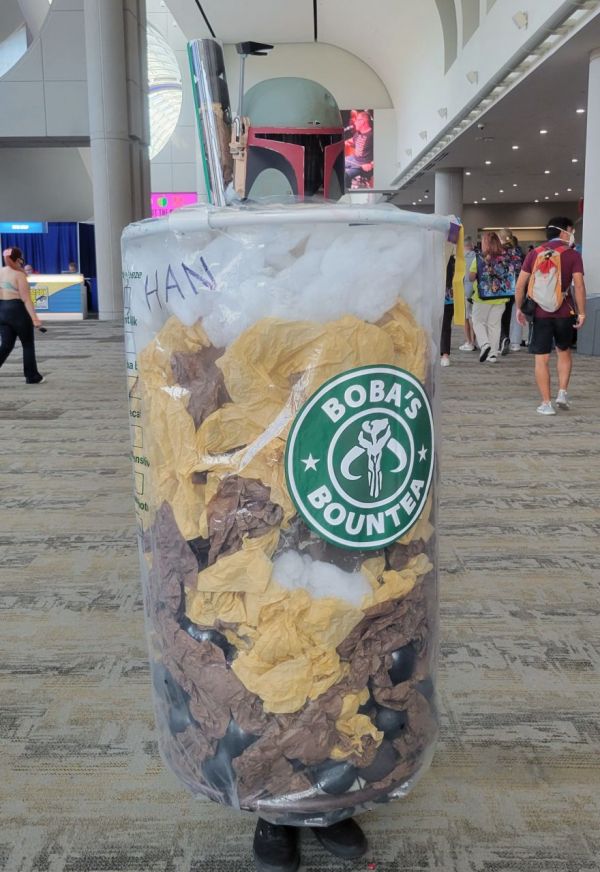 Speaking of funny costumes, I did not expect to see this ridiculous "Boba" Fett cosplay no matter how many times I've seen drawings of this concept online.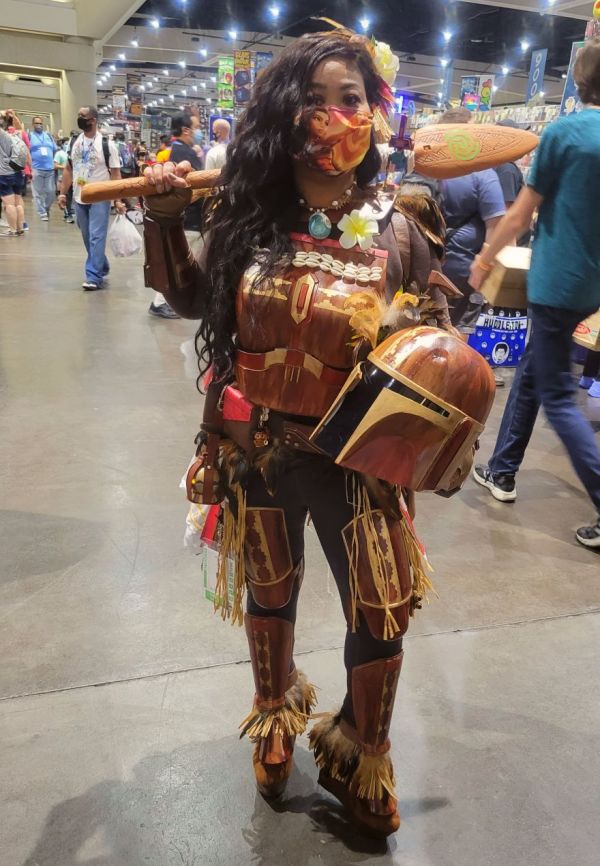 Of all the Boba Fett mashups, this might have been the coolest at the convention though.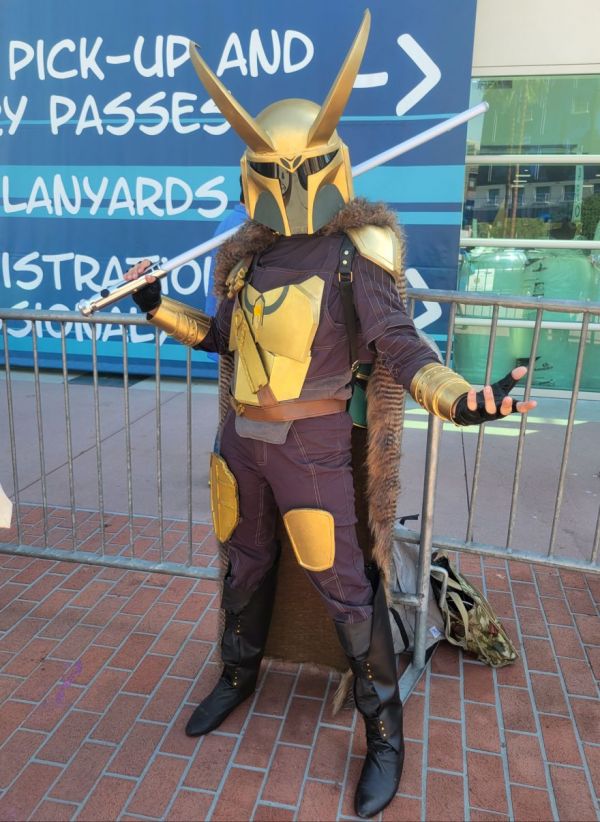 This Loki/Boba Fett was pretty delightful too though.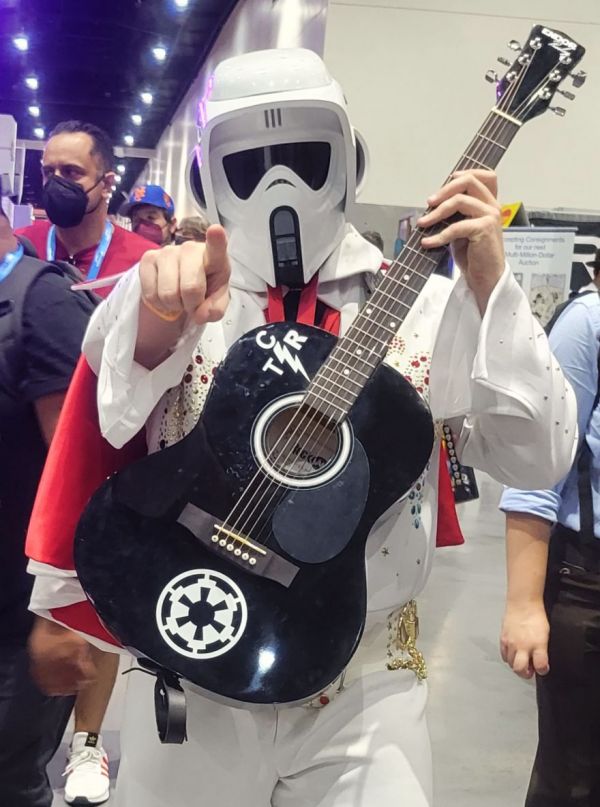 Of course you can't have a Comic Con without a stormtrooper/Elvis mashup.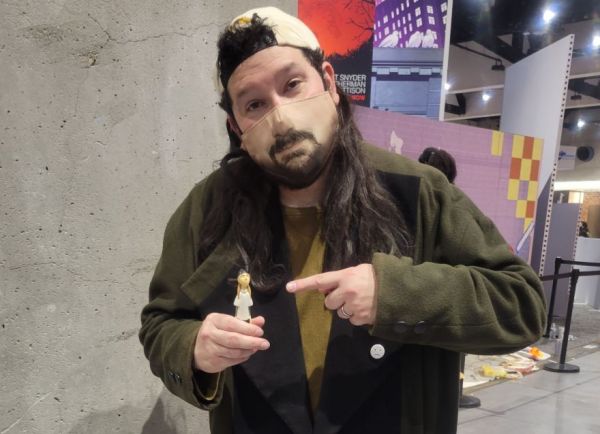 Though for that matter, you also can't have a SDCC without this Silent Bob hanging out in the aisles. While this was the first year he had a mask, the use of a custom-printed one that looks just like Kevin Smith ensured he looked nearly the same as usual.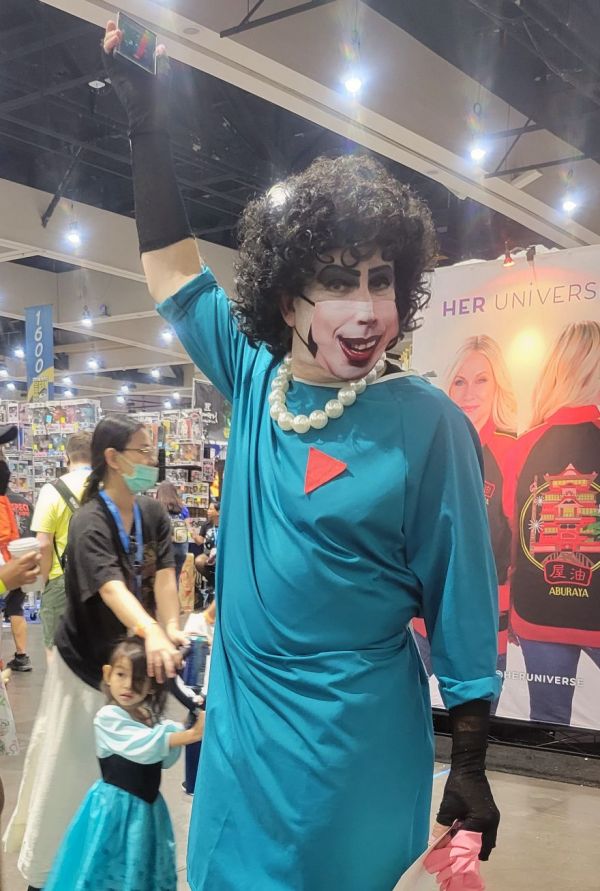 And Because Frank N. Furter needs his gorgeous red lips, this cosplayer also custom printed his mask.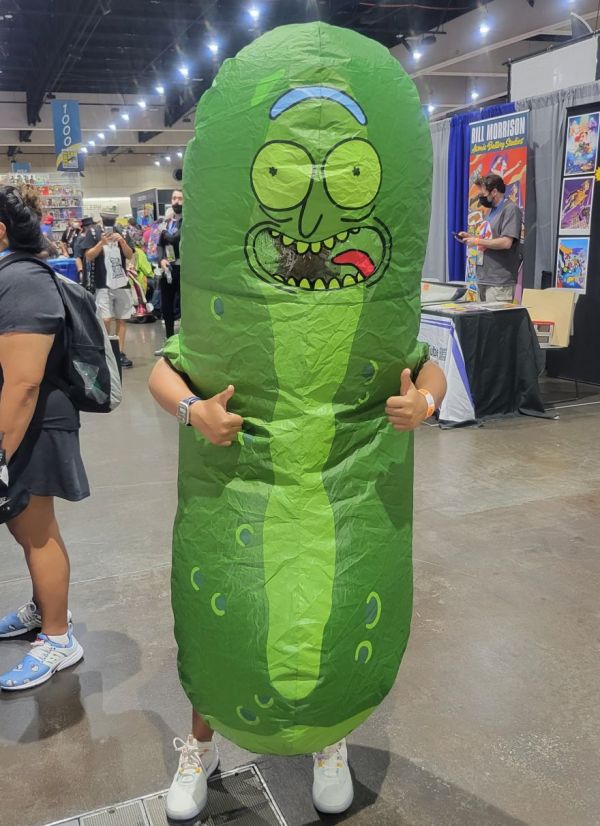 While cosplayers were required to wear masks, some of them had costumes that hid whether or not they were following the rules.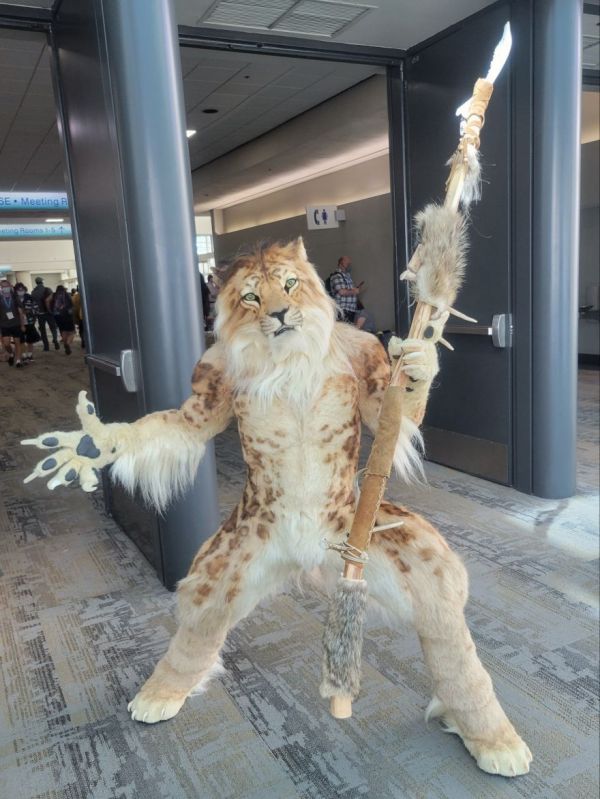 Then again, a face mask was a lot more comfortable than this full-body furry cosplay. He was so hot that I was taking a break under the air conditioner for when I spotted him.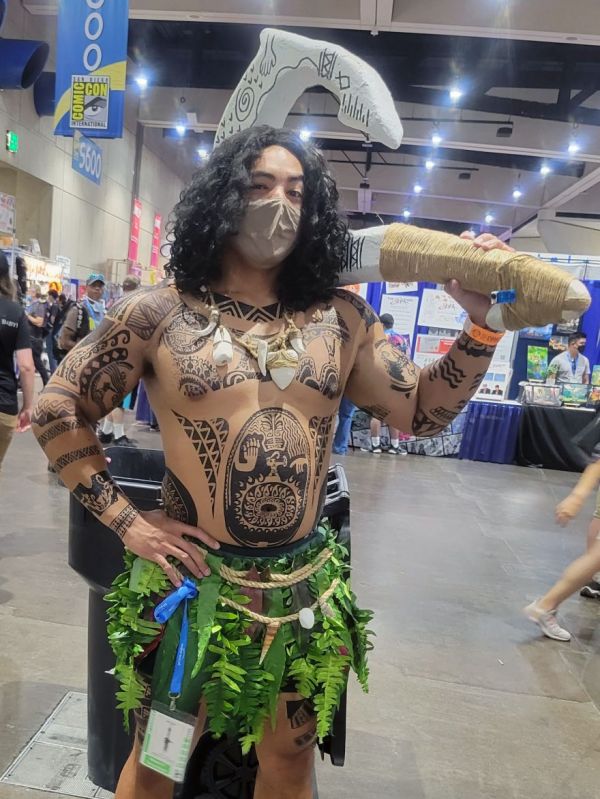 In the San Diego heat, this cosplayer was perhaps one of the most comfortable folks around.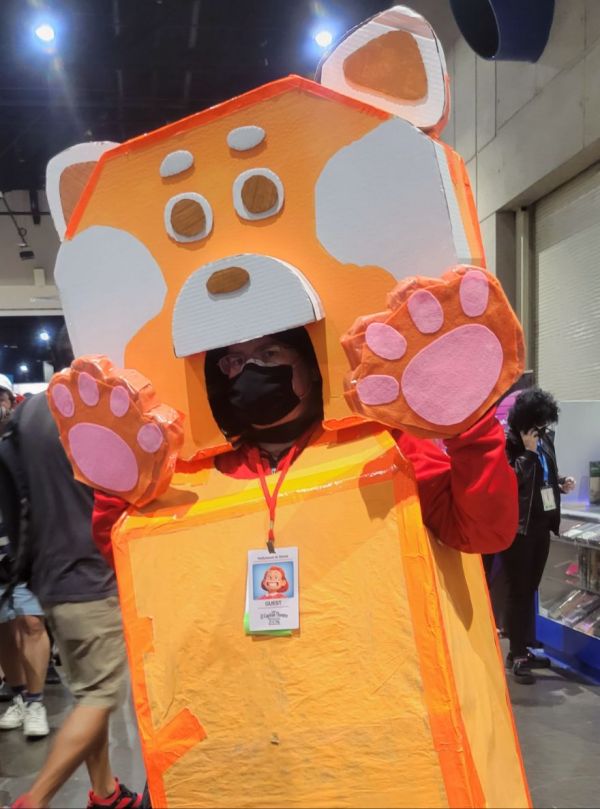 I don't know how comfortable this Turning Red costume was, but I can tell you it was probably one of the least expensive to make, though.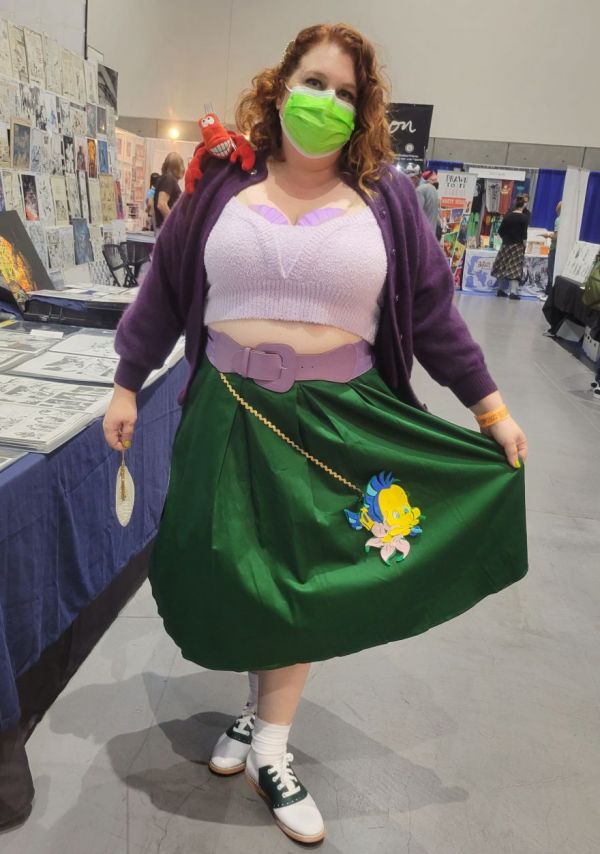 For Disney costumes, my favorite may have been this adorable Little Mermaid.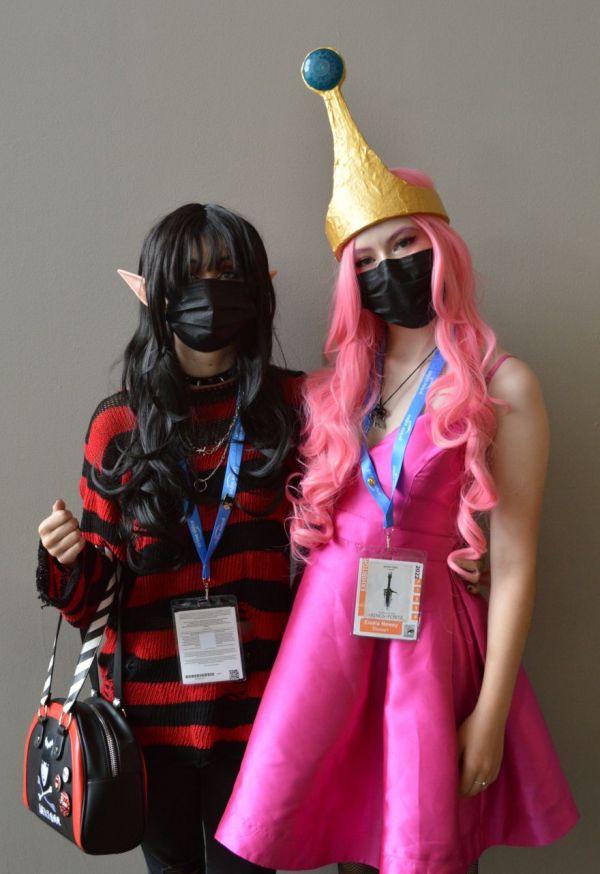 This queen and princess were pretty adorable together though.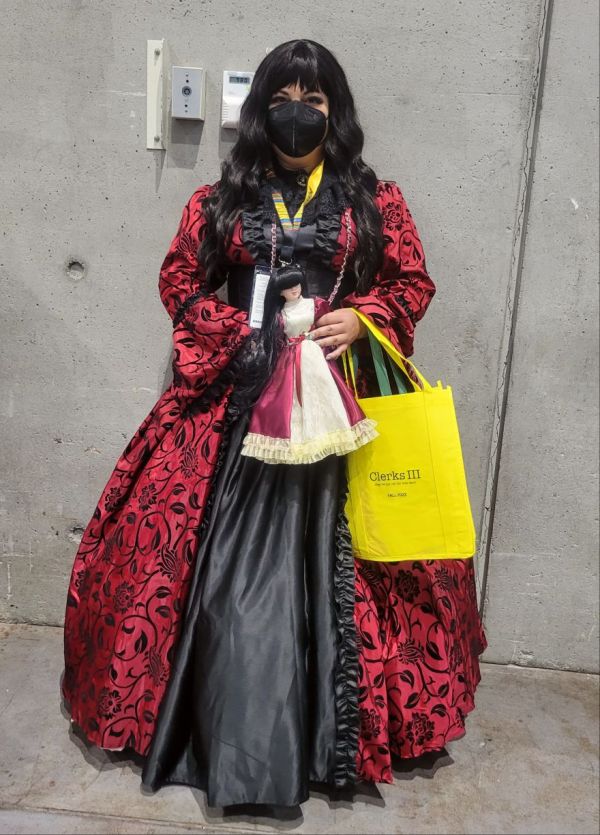 And I'm always a sucker for a good Nadja, especially when she has her ghost with her.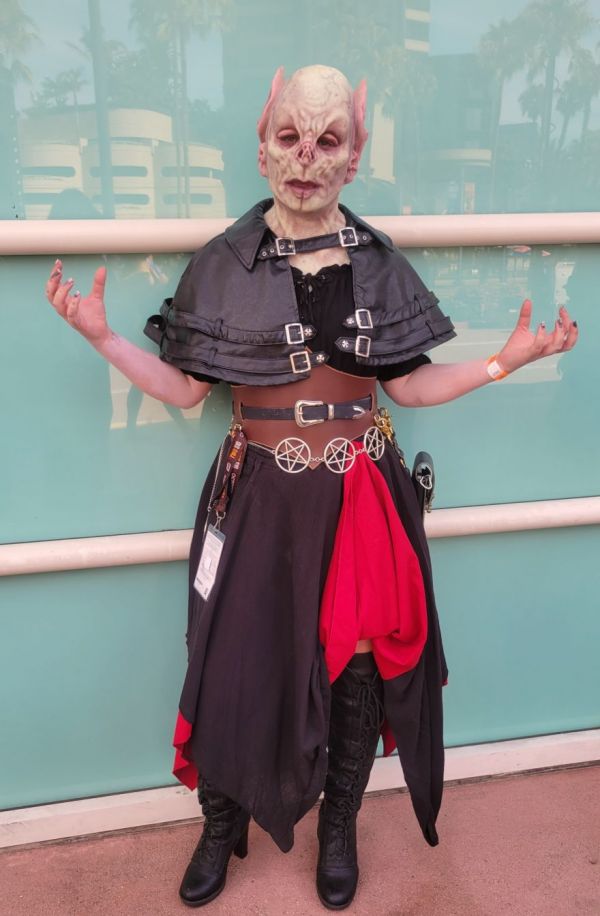 This creepy vampire cosplay is just about as far from Nadja as you can get.
If you love things just a little dark, you may enjoy this delightfully unique Sally costume.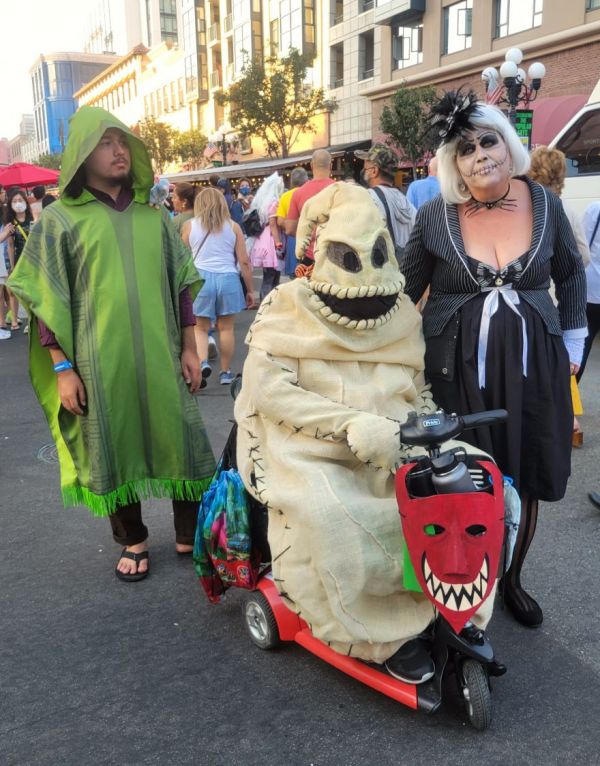 I can't help but wonder if she would have gotten along with this Nightmare Before Christmas couple. That guy in the background though? We don't talk about him.
Want to see more? Check out these fun genderswapped and couple's costumes from the con.
Source: neatorama