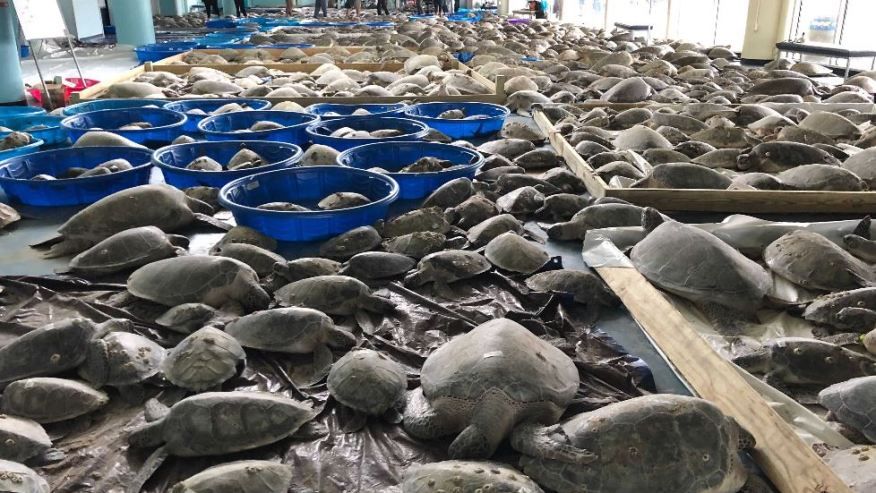 It has been unexpectedly rough this week here in Texas. We're not set up with the infrastructure necessary to easily endure sub-freezing temperatures for several consecutive days.
It has been especially difficult for the sea turtles who live off the south Texas coast. But Sea Turtle, Inc., a conservation organization, along with many volunteers, nonetheless managed to pull 3,500 turtles out of freezing waters off South Padre Island. KXAN News reports on how the rescuers have been trying to find suitable space anywhere for the turtles:
Sea Turtle Inc. was using the South Padre Island Convention Center to shelter the turtles as they work to rescue as many as possible.
The Beach Resort at South Padre Island will be taking in some of the turtles, due to space issues at the Convention Center.
"We will house the turtles in our indoor water park and the conference room." said Natin Kasan, owner of Beach Resort.
My mom is retired, & she spends her winters volunteering at a sea turtle rescue center in south Texas. The cold snap is stunning the local turtles & they're doing a lot of rescues. She sent me this photo today of the back of her Subaru. It's *literally* turtles all the way down. pic.twitter.com/xaDRNjLDoQ

— Lara (@lara_hand) February 15, 2021
On a temporary basis, the human heroes are putting the turtles anywhere that isn't filled with freezing water.
-via Marilyn Terrell | Photo (top): Sea Turtle, Inc.
Source: neatorama