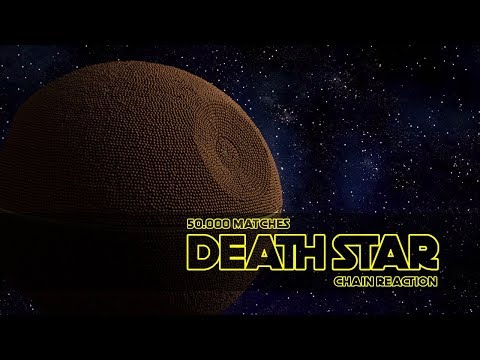 It took more than 50.000 matches and 160 working hours to make this Death Star from Star Wars movie serial. Like the "real" Death Star, this one also features north and south hemisphere, a superlaser and an "equatorial trench". Each hemisphere consists of approximately 28.000 matches and there are additional 4.000 matches (match heads, to be precise) inside the globe. Two pounds of hot glue were spent on gluing this sphere, and two hemispheres were glued on both sides of equatorial trench using wood glue.
Some of you probably know there were two Death Stars. The first one was destroyed by Luke Skywalker, flying along equatorial trench and shooting the only weak spot of the Death Star. The other one was destroyed by Lando Calrissian (actually it's more complicated than this, since it was really big operation on several fronts) flying Millennium Falcon and destroying the regulator of the Death Star's reactor.
Darth Vader threw Emperor Palpatine into the abyss and down to the reactor core and we all expect the Emperor is dead, but maybe… just maybe we are talking about an unconfirmed kill. Star Wars Episode IX: The Rise of Skywalker trailer suggests that indeed Emperor Palpatine is alive somewhere inside the Death Star remains. It looks like he was just laying low and getting ready for when the time comes to strike the Republic and Rebels for the last time.
Source: neatorama