As "Fake News" becomes a regular accusation of unfavorable press about the President of the United States, now is as good a time as any to relish the artful nature of propaganda. 
Today it was revealed that Marilyn Minter and KATSU, among others, were behind posters wheatpasted all over New York City highlighting Donald Trump's description of sexual assault in the infamous Access Hollywood tape in which he said when he wants women he'll, "grab 'em by the pussy." Minter told Artnet News, "I've been making nothing but resistance propaganda since November 9… I want to reach the 90 million eligible voters who didn't vote who are just waking up to how fragile our democracy is."
A host of GIF artists have used the language of propaganda, both in direct criticism of this administration and to better understand how mass media influence works. In the work of Kidmograph, Peekasso, Jess Mac, 100% Soft, Parker Beckley, and Geo Law below, you'll see the influence of political posters, television ads, video games, sloganeers, and one of the most iconic cinematic critiques of propaganda out there, John Carpenter's 1988 film They Live!
Kidmograph
Peekasso
100% Soft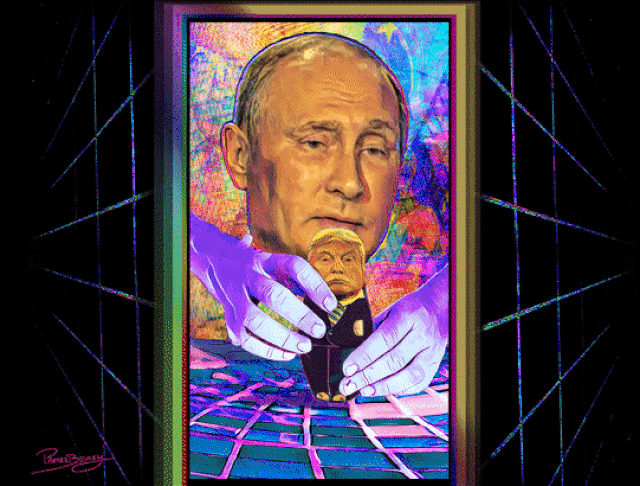 Parker Beckley
Geo Law
Jess Mac
Find more propaganda on GIPHY.
Related:
Artists Band Together to Protect Women's Healthcare Rights

Vintage Americana Makes Collages of Wartime Valor and Disquietude
See the Avant-Garde Photos that Helped Spread Soviet Communism
Source: vice.com