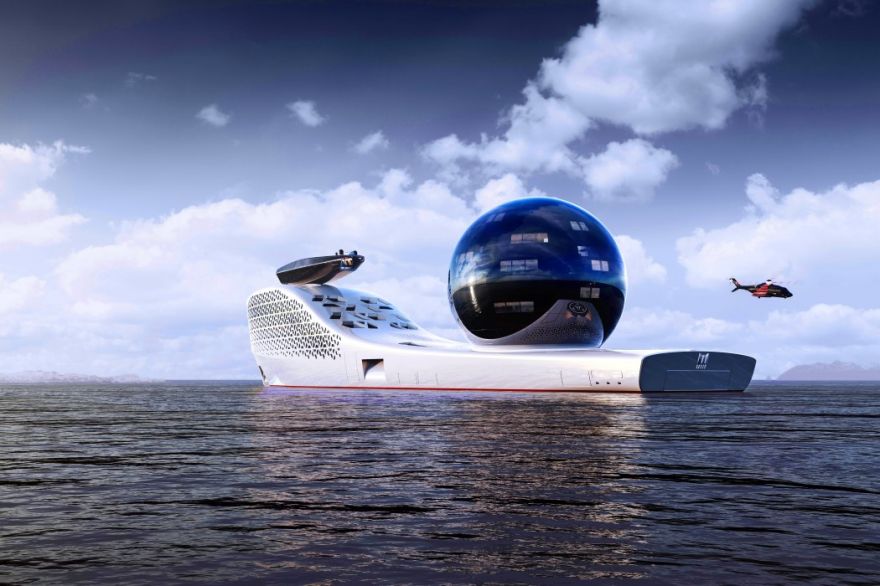 Well, at least it's not just for rich people to flaunt when they want to, right? Meet the Earth 300 Climate Research Vessel, conceptualized by naval architect Iván Salas Jefferson (founder of Iddes Yachts). The huge yacht has 22 state-of-the-art laboratories, a cantilevered observation deck, and enough space for 160 scientists for research. The most impressive feature of the vessel is that it runs entirely on 'clean' nuclear energy:
The Earth 300 vessel boasts of an incredibly captivating design, with its 'floating marble on a surfboard' aesthetic that's supposed to resemble the planet earth on a path to the future. The vessel has an almost sculptural quality to it, of which designer Iván Salas Jefferson said "We wanted to create a design that would inspire. When one looks at the sphere, we want them to be inspired to protect Earth. When one walks into the sphere, now housing the science city, and feels the action of all the ongoing scientific works, we want them to be inspired to become an alchemist of global solutions."
Expected to set sail as soon as 2025, the Earth 300 vessel is currently being constructed by Polish naval architecture firm NED. The construction of the gigayacht is projected to cost anywhere between $500-700 million, and prominent backers of this project include names like IBM, Triton Submarines, EYOS Expeditions, and RINA, an international leader in maritime safety. The Earth 300 will also be powered by a unique 'Molten Salt Reactor', a new generation of atomic energy that's safe, sustainable, 100% emission-free, and is developed by TerraPower – the nuclear innovation company founded by Bill Gates.
Image via Yanko Design
Source: neatorama