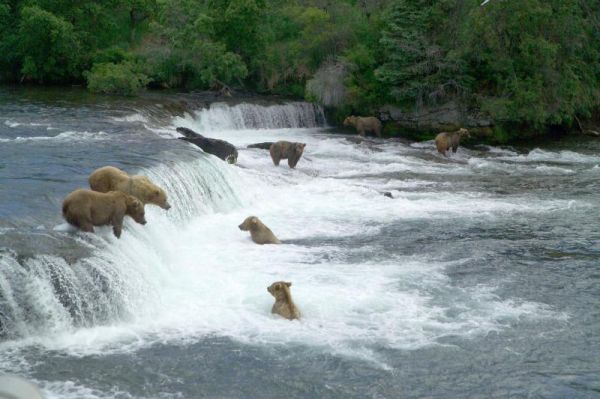 The excitement is growing during the annual Fat Bear Week tournament. On Sunday, a semifinal matchup between two previous champions, Holly 435 and Bear 747, ended in what seemed like a victory for Holly. However, those administering the tournament thought something smelled fishy, and it wasn't all that salmon that the brown bears of Katmai National Park have been eating all summer.
It appears someone has decided to spam the Fat Bear Week poll, but fortunately it is easy for us to tell which votes are fraudulent. We have discarded the fake votes and today's official totals are:

747: 37,940
435: 30,430

— Katmai National Park (@KatmaiNPS) October 10, 2022
The tournament bracket was adjusted, and Bear 747, who is as big as a 747, advanced to the final round. He's so big that he's been referred to as Bear Force One by fans. Jezebel laments the decline of fairness when even Fat Bear Week can be corrupted by cheaters. But they are even more offended that in the first eight years of the tournament, only four bears have won the tournament, despite Katmai National Park being the home of 2,200 bears. Well duh, some bears are just naturally talented at putting on weight.
The championship round is today, and voting is open until 9PM Eastern and 6PM Pacific. Cast your vote here for either Bear Force One 747 or Bear 901. Both are extremely fat now. -via Fark
(Image credit: National Park Service)
Source: neatorama