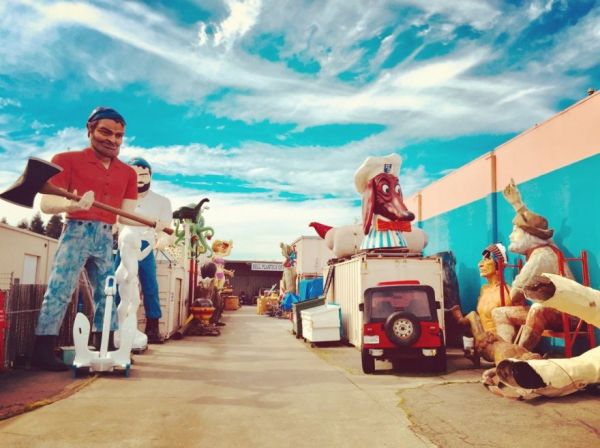 In the 1960s, huge fiberglass advertising statues were erected across America, meant to draw attention and traffic to one business or another. These were called Muffler Men, since many of the 18- to 25-foot figures held a muffler or other product. The first one was a statue of Paul Bunyan, and the company that inherited the mold used it to make giant men of all kinds, and then branched out to other giant advertising statues, like chickens, dinosaurs, and women. In the 1970s, fiberglass giants fell out of favor, and out of advertising budgets. Now many of them have been repurposed, or belong to private collectors.  
One such collector, the Bay Area's Bell Plastics, is refuge to what is perhaps the world's largest conglomeration of original muffler men. Once a year, they invite the public into their warehouse for a unique opportunity to wander amongst various advertising giants, including the rare Uniroyal Girl (a bikini-clad female "Muffler Man" who is said to be modeled after Jackie Kennedy), two of San Francisco's beloved Doggie Diner heads, a slightly demented Santa, a pair of industrious car washing octopi, and other oversized company shills. What makes this event even more special is that Bell Plastics has reconstructed the goliath molds using the original figures and now Big Mike threatens to roam the earth once more.
The bad news is that the open house at Bell Plastics was last week. The good news is that Boing Boing has a collection of images from the event. And there's always next year, if you want to start planning a road trip to Hayward, California.
(Image credit: Kai Wada Roath via Bell Plastics)
Source: neatorama