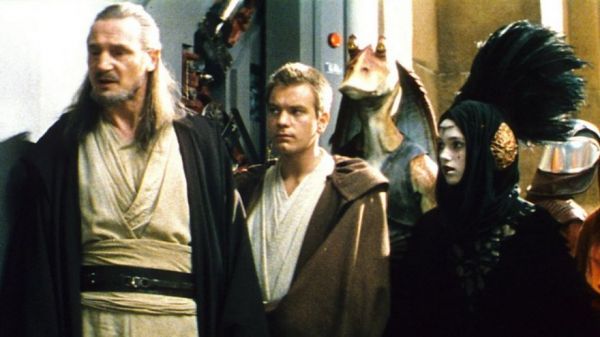 The Phantom Menace was released on May 19, 1999. From its premiere, the movie has been a source of disappointment among Star Wars fans. The first episode of the Skywalker saga gave us a pint-sized Darth Vader, too much Jar Jar Binks and not enough Darth Maul, bureaucratic discussions, and no apparent bridge to the next chapter. But it was also the first Star Wars movie in 16 years. For the movie's 20th anniversary, io9 spoke with fans attending Star Wars Celebration in Chicago last month to see how they felt about The Phantom Menace. They were surprisingly enthusiastic.
"I have a personal connection to that movie," said Natassia Strayer, who was cosplaying as Rey at the convention. "When I was younger my favorite character was young Anakin and I used to have this pair of ski goggles that looked like the podracing goggles. So, when I was like four or five, I would just wear them and run around my basement like I was podracing. I know that a lot of people don't like [The Phantom Menace] as much but for me, just because of that nostalgia, I still enjoy it because I think back to that childhood."
That comment explains the rehabilitation of The Phantom Menace rather well. In 1999, longtime Star Wars fans had high expectations, while for an entire generation, it was their first Star Wars experience, or at least the first Star Wars movie they saw on the big screen. With no preconceived notions about what a Star Wars movie should be, they enjoyed The Phantom Menace for what it was- essentially a movie for kids. But was it their age or their lack of Star Wars experience? To find out, Andrew Daniels watched the movie with his wife Lauren, who hadn't seen any of the Star Wars films before. An interview with her before and after the screening gives one point of evidence that it's your age at first watch that determines how much you enjoy The Phantom Menace.  
Source: neatorama