Considering the Nissan GT-R's storied heritage – the crown jewel of the Japanese automaker's stable and a beastly automotive expression of "ugly delicious" on four wheels – Nissan's decision to celebrate the model's 50th anniversary arrived as no surprise. What caught us off guard was the celebration's co-host, the Italian design and engineering studio, Italdesign. Together, they've unveiled a collaborative effort resulting in a (nearly) elegant rendition of the legendary GT coupe.
Embellished with golden accents across its expanse of glossy sheetmetal painted in Liquid Kinetic Gray, the Nissan GT-R50 engineered by Italdesign (also celebrating its own 50 year anniversary) exists as a one-off prototype that doubles down in the audacity department, gilding the brutish aesthetic of the GT-R with gold paint, unique bodywork and even more performance.
One might assume it was an Italian eye responsible for smoothing out the chiseled muscularity of Nissan's most brutish expression of speed, but the customized commemorative GT-R NISMO turned GT-R50 was in fact the work of Nissan's design centers in London and San Diego. After dropping the roofline, a blush-inducing "power bulge" was added across the GT-R50's hood, arching down to the front where a pair of LED headlights tear stretched into a sleeker and angular gaze than its NISMO predecessor. The "samurai blade" cooling outlets behind the front 21-inch wheels and sizable adjustable rear wing retain the performance spirited design of its lineage.
From Alfonso Albaisa, Nissan senior VP for global design:
How often do you get to ask, 'What if we created a GT-R without limits,' and then actually get to build it? This is a rare window in time when two big moments intersect: 50 years of Italdesign shaping the automotive world and 50 years of Nissan generating excitement through our iconic GT-R. So to celebrate this convergence, Nissan and Italdesign created this custom GT-R to mark 50 years of engineering leadership.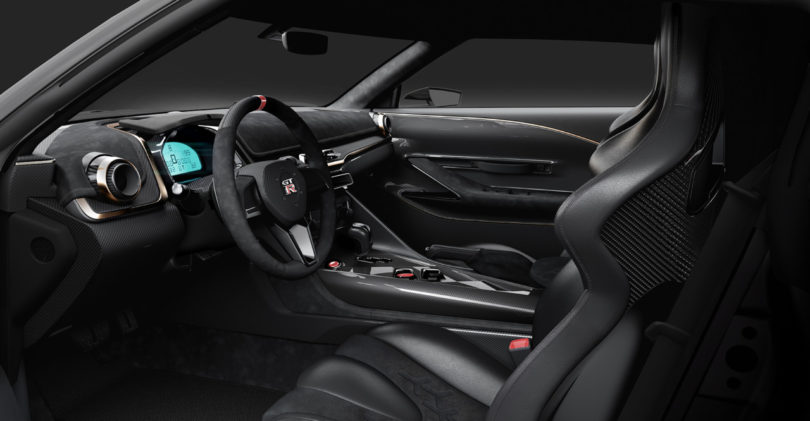 "But…how fast does it go?", you ask? The hand-assembled 3.8-liter V6 VR engine paired with new turbochargers from the GT-R GT3 race car produces an estimated 710 horsepower and 575 pound-feet of torque. In other words, plenty fast to escape all of our dreams.

Source: design-milk