Children play in the snow-covered forest without a care in the world; figures slowly drift off into the mountainous landscape, while a heavenly natural light seeps and crawls its way through the forest's vegetation. Berlin-based, Polish artist Malgosia Jankowska illustrates this beautiful natural scenery with a magical and haunting edge. Constructing her paintings from a combination of watercolor and various inks, viewers are effortlessly captured and driven into Jankowska's mysterious Brothers Grimm-like fairy tale.
You can almost smell the fresh woodland air and feel the seeping light upon your skin, which has inspired her dreamy, ink-saturated artwork. Illustrating what is exquisite about the simple pleasures of life, Jankowska's works artfully grasp the vibrancy and tantalizing imagery of the natural world.
Confidently layered onto the canvas and masterfully outlined, these illustrations depict mysterious yet familiar scenes. Jankowska constructs her artworks from variations of translucent and highly pigmented black and berry-red watercolors and inks. Each image is carefully shaded and shadowed to create variations in tone for subtle and acute effect. She uses a fine brush to define the topography, shack-like buildings and the willowy trees. These items are constructed in such noteworthy detail, while her characters are whimsical figures that blur and fade into the natural scenery.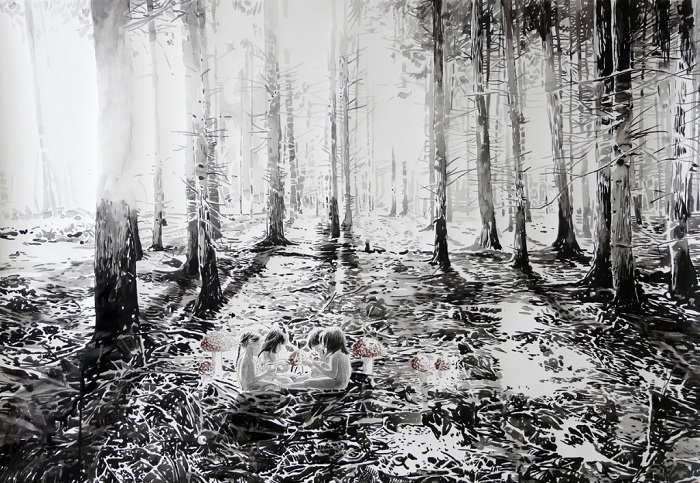 Each figure and group of people is almost hidden and masked by the beautiful landscape, showcasing not only the delight in solitude but also the psychological power of natural landscapes. As gallery owner Víctor Lope tells Creators, "I discovered Jankowska's work in 2010 at an art fair in Berlin. She was showing two big pieces on paper 200 cm high of snow landscapes. I like and admire artists that are able to combine both classical and contemporary themes in the same pieces of art. What makes Jankowska's work is her monochrome landscapes—the use of solely one color of ink per piece. She is able to create a compelling universe which makes her works so unique."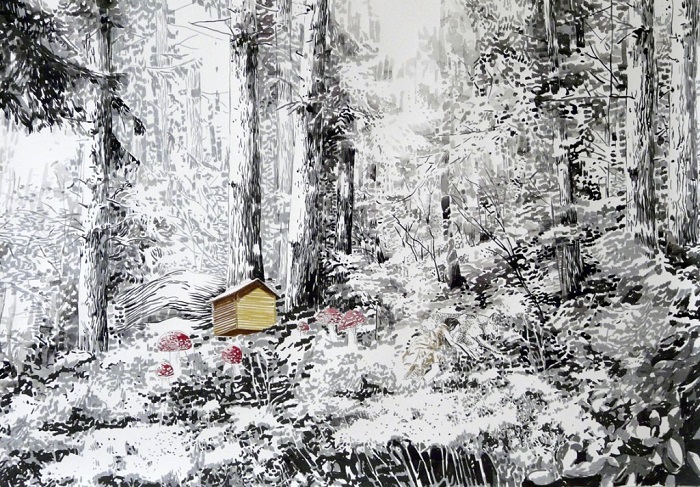 Jankowska constructs spaciousness and depth with her clever use of ink tone, giving her paintings a haunting and eerie vibe, where each piece depicts a similar scene but an isolated story. Similar to the disappearing child painting in Roald Dahl's The Witches, there is a strangeness to each illustration that bewitches the viewer and challenges them to make their own minds up about the mysterious story and place that has been dripped and layered onto the canvas. In doing so, Jankowska invites her audience to question the respective narrative behind each painting. The figures in her painting are a secret world of humanity's subconscious, where nature becomes a safe environment for expressing repressed desires, secrets, and wishes.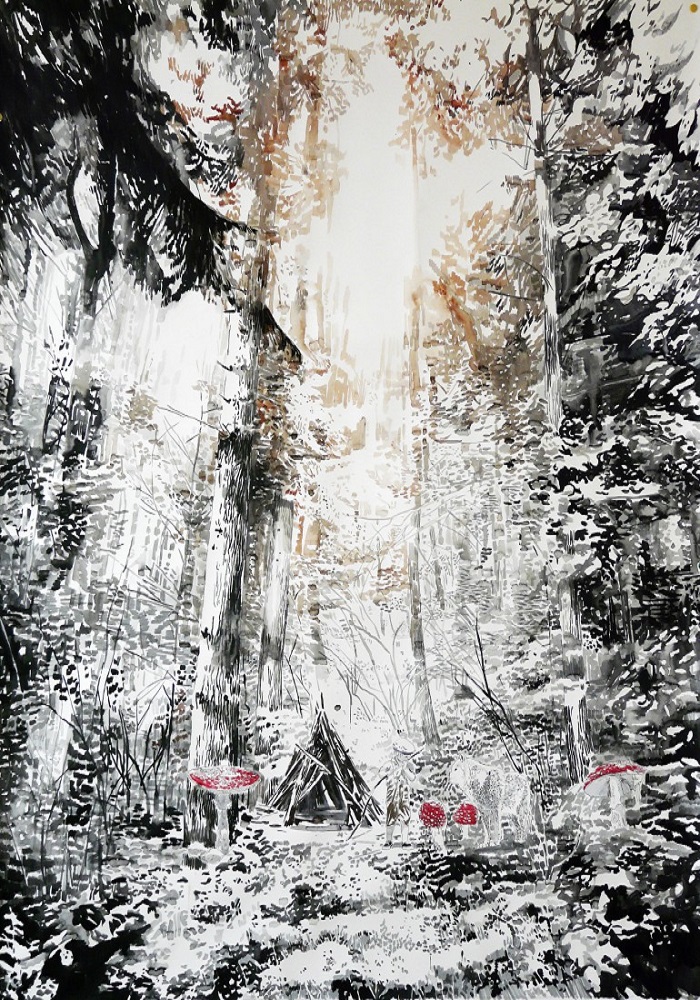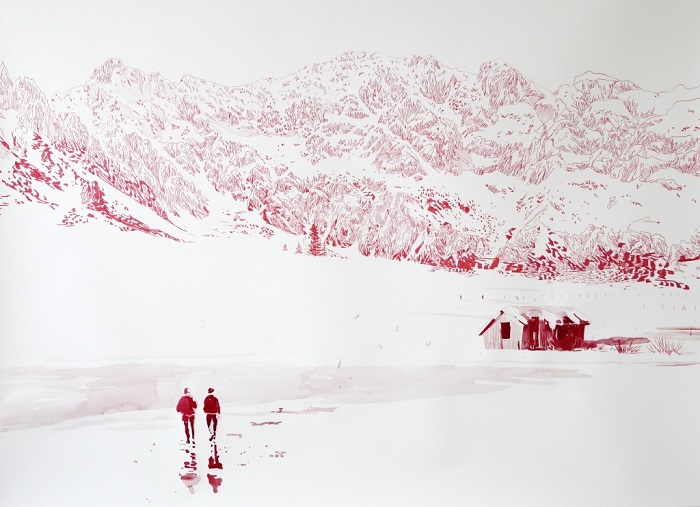 To view more of Malgosia Jankowska's work, click here.
Related:
These Paintings Take a Fairytale Turn to a Forest Far, Far Away
A Forest of Ink-Covered Trees Grows in Pittsburgh
Light Painting A Darkened Woodland Into A Magical Wonderland
Source: vice.com