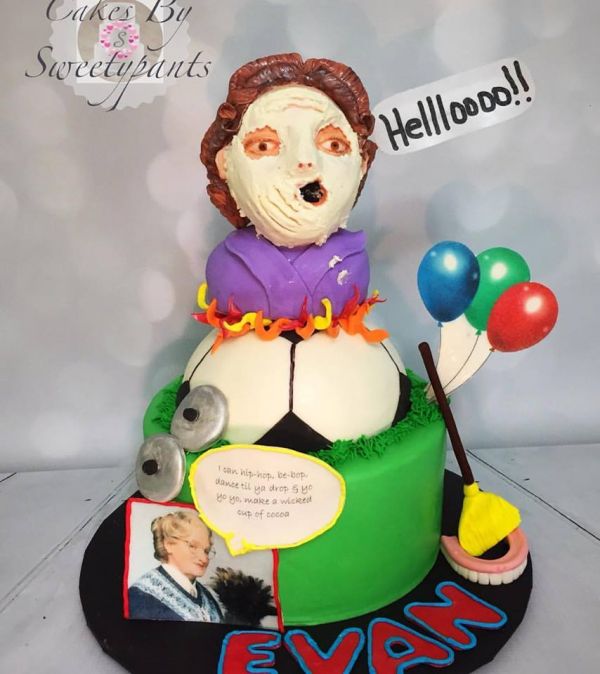 Evan Kowalski of Wyandotte, Michigan, saw the 1993 Robin Williams movie Mrs. Doubtfire with his family and loved it. He thought it was a the funniest thing ever. Months later, when his mother asked what theme he wanted for his 4th birthday party, Evan immediately said Mrs. Doubtfire. You can buy party supplies from a lot of movies, but Mrs. Doubtfire is not one of them, so Evan's mother Laura Kowalski went to work to make it happen.
"I was thrown for such a loop when Evan said he wanted a 'Mrs. Doubtfire' party, so I quickly posted on a local Facebook page, Downriver and Friends looking for a baker. That's how I found Angie Claxon (Cakes by Sweetypants), who made the amazing cake."

Evan loved every minute of the party, but his favorite part was definitely the cake, which featured several elements from the movie ― including the infamous face cream scene. "It met ALL of his expectations," the mom said. Evan's 7-year-old sister, Allison, and 12-year-old brother, Ethan were also big fans.
Family members made decorations and treat bags. Mrs. Doubtfire touches were added to the food and games. And Evan was delighted. The internet was delighted with the pictures, which you can see at HuffPo. -via The Daily Dot
(Image credit: Cakes By Sweetypants)
Source: neatorama