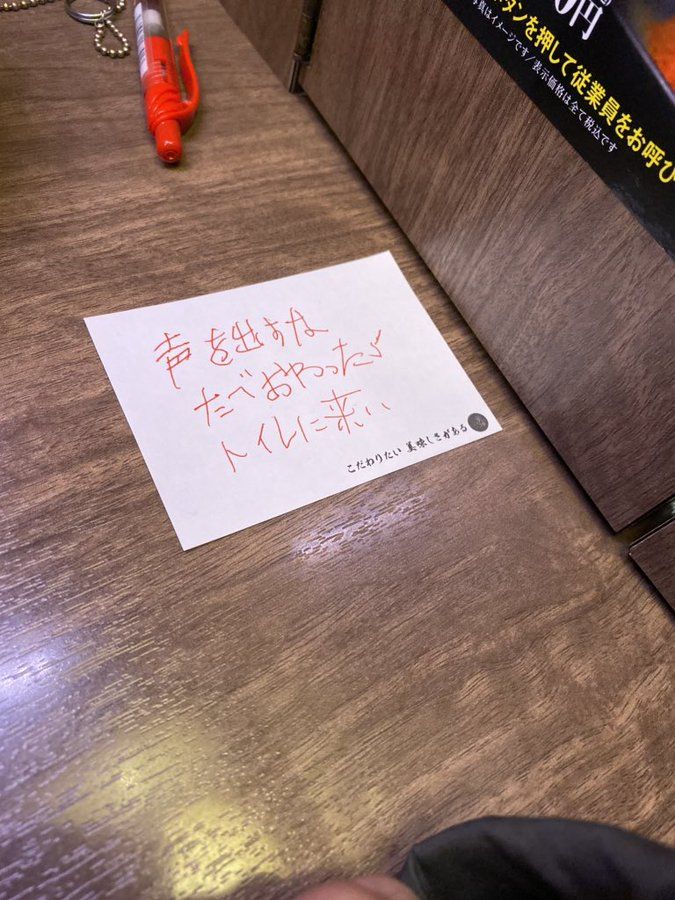 Ichiran ramen not only provides great ramen bowls, but also a booth that customers can mind their own business (ramen). Some people like to slurp away in private booths, so this feature of Ichiran ramen is a bonus. While people mind their own ramen bowls at Ichiran, one diner received a note from the booth beside him that caused them so much fear. Twitter user @nyoronyoro0515 shared his experience, including an image of the note. SoraNews24 has the details:
The note, written in the red ink of the Ichiran pen that sits inside every booth for ordering purposes, says:
"Don't say anything. When you've finished eating, come to the toilet."
Needless to say, the diner who received the note didn't know what to make of it, and seeing as it was only him and an older man next to him inside the restaurant at the time, there was no one else it could've come from.
The diner says he hadn't said a word the whole time during the meal, so he wasn't sure why the note began with a request for him not to speak. But then "come to the toilet"? That was the part that was particularly unnerving for him, especially as the language used in the note was very casual and almost demanding in tone.
A number of commenters online found it amusing that the note was written on Ichiran paper printed with the words "kodawaritai oishisa ga aru" in the bottom right-hand corner. This loosely translates to "It has a deliciousness you'll want to obsess over", and while it's meant to be used for the noodles, it takes on a whole other meaning if, as many believe, this note was actually an invitation to get frisky in the bathroom.
image via @nyoronyoro0515
Source: neatorama