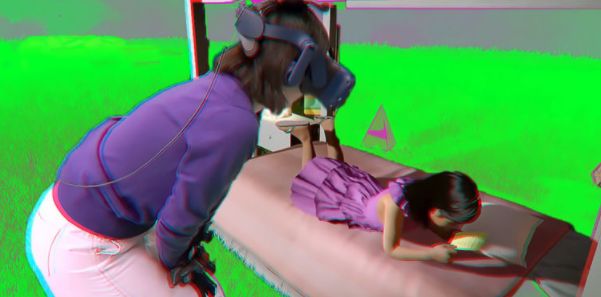 Jang Ji-sung was able to reunite with her seven-year-old daughter Nayeon thanks to virtual reality. Their reunion was part of a special documentary called "I Met You," produced by the Munhwa Broadcasting Corporation. Nayeon died of an incurable disease in 2016, and technology was able to let her mother see her (sort of) and have a birthday party:
"Maybe it's a real paradise," Jang said of the reunion in VR, according to Aju Business Daily. "I met Nayeon, who called me with a smile, for a very short time, but it's a very happy time. I think I've had the dream I've always wanted."
According to Aju Business Daily, the production team spent eight months on the project. They designed the virtual park after one the mother and daughter had visited in the real world, and used motion capture technology to record the movements of a child actor that they could later use as a model for their virtual Nayeon.
All that to say: the process might not be simple and the final product might not be perfect, but we now have the technology to recreate the dead in VR — convincingly enough to move their loved ones to tears.
And the implications of that are impossible to predict.
It may have taken an entire team of experts to produce "I Met You," but how far can we be from a platform that lets anyone upload footage of a deceased love one and then interact with a virtual version of that person? Years? Months?
Image via Futurism
Source: neatorama