Designer Sam Buckley is clearly a color aficionado. I mean, check out his two Instagram accounts – @studiosambuckley and @ooooobjectsssss – and the project below if you have any doubt. This apartment, located in Edinburgh, Scotland, might sound overwhelming to some but when you see the images, it just works. The apartment has Victorian bones and through the use of a rich color palette, bold furnishings and a bit of nature, it comes together to form a kaleidoscope of dreams.
The living space is grounded with a custom graphic rug designed by Buckley for cc-tapis. Similar shapes and colors found in the rug are replicated on everything from the floor up, including the ceiling and windows.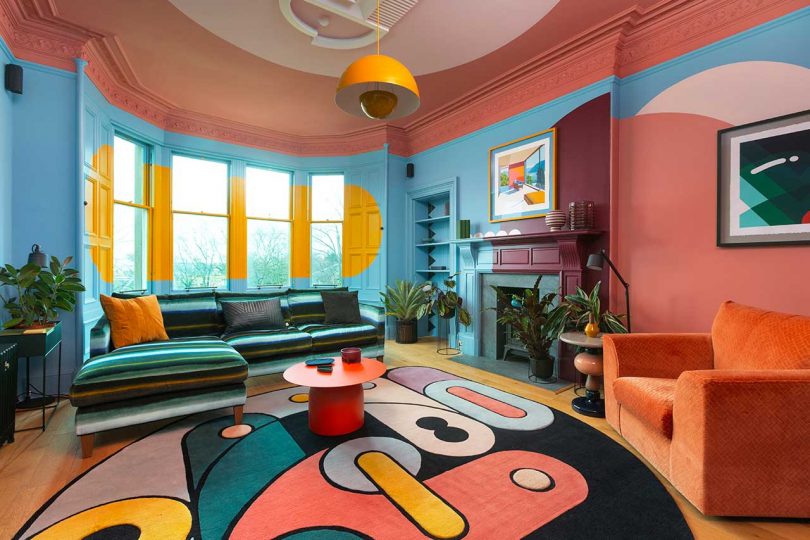 The oversized wall graphics range in hues, including aqua blue, turquoise, hunter green, yellow, coral, maroon and pale pink. A green striped sofa, orange chair, coral table, and two-tone blue console round out the larger pieces of furniture, which are paired with a select grouping of statement objects.
A golden yellow Verner Panton pendant light hangs down from a light pink ceiling which is adorned with a white abstract ceiling medallion.
A Vipp floor lamp in black lives by a Shuffle side table by &Tradition and an orange chair.
Even the doors pop with the addition of graphic push plates.
Even the bedroom got a makeover but with a more subtle color scheme. The walls, while still having graphic shapes, are painted in two muted tones with white in the middle. The bed stands out with its bright yellow duvet and pink pillows, while the radiator gets a perforated marigold cover upgrading it from an eyesore.
>>> Want to add your own Bright + Bold spin to your home? Head to the Design Milk Shop here! <<<
Photos by Alix McIntosh and Sam Buckley.

Source: design-milk