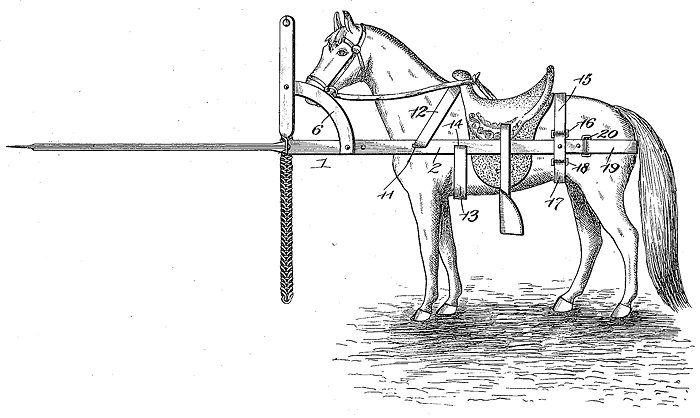 By 1900, when Franz and Konrad Hieke of Philadelphia received their patent, horse-mounted cavalry was fading away as a useful battlefield tool. Horses were far too vulnerable to the volume and accuracy of bullets that modern guns could deliver.
Nonetheless, the Hieke brothers, who were from the Austro-Hungarian Empire, devised a means to extend the life of cavalry horses and their riders. This frame provides a forward-facing shield to deflect bullets, a window to see through, and a sharp spike to encourage enemies to flee.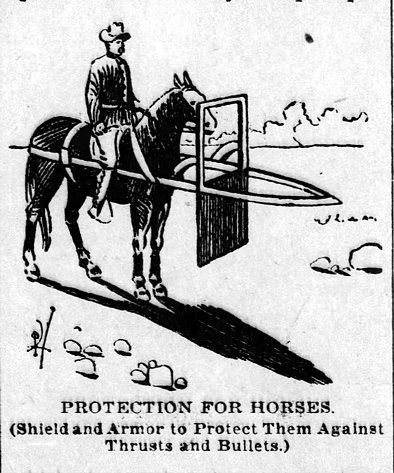 The Hieke brothers stressed that their invention would be easy to attach to a horse, maintain in the field, and would not be so heavy as to throw the horse off balance:
A further object of the invention is to provide a device of this character whichl can be securely attached to the animal wit-hout inconvenience to the rider, and, furthermore, to make the same to possess comparatively little weight, that it will not interfere with rapid movement.
Furthermore, the object of the invention is' to produce a device of the character noted which shall possess advantages in points of simplicity, efficiency, and durability, proving at the same time inexpensive.
-via Weird Universe
Source: neatorama