The gallery space is clouded by a red woolen web, entwining found antique wooden chairs. It's a bit like a giant spider has woven a dense crimson net, yet the scattered lines of yarn evoke movement, not entrapment. The installation evokes a once populated space, now abandoned.
Chiharu Shiota, an installation-artist whose vision is ubiquitous with the use of found objects, was commissioned in February by the Savannah College of Art and Design (SCAD) to bring her work to the school's art museum. "I used chairs to represent a classroom," Shiota tells Creators. "But the absent bodies have that ghostly presence, too. They represent people which are not there, but their former existence is so vivid you can almost feel it."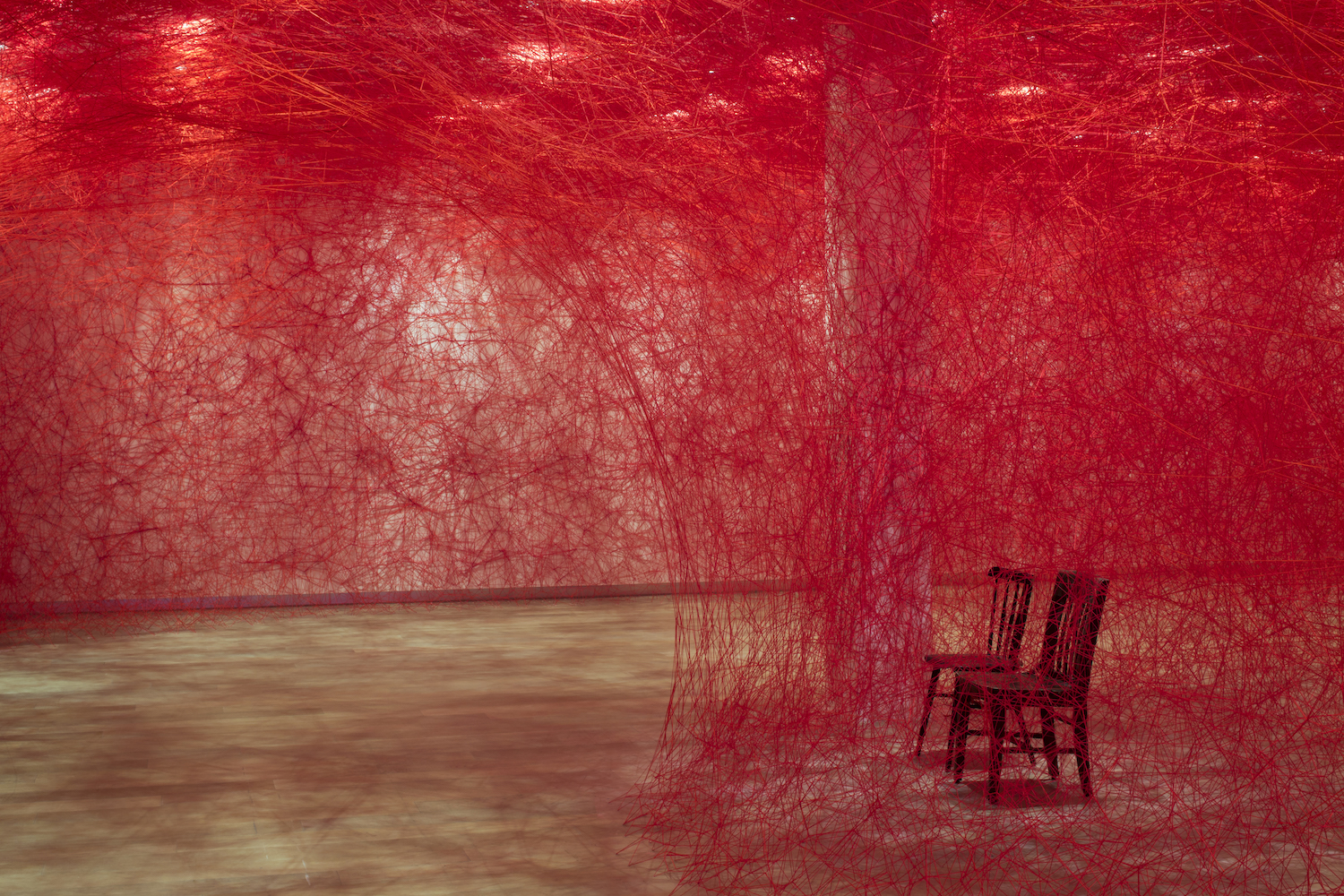 The area surrounding SCAD is an apt setting for the site-specific installation. The art school is located in Savannah's Victorian district, an area speckled with historic buildings and Civil War remnants. It's also purportedly one of the most haunted places in America. As with any historic city, many of its relics have lost their meaning, and Shiota's use of antique furniture plays with the presence of lost memories.
Once the found chairs were placed in the space, Shiota wove her signature red woolen string into interconnected lines across the room and through the chairs, creating a tangled and distorted environment that seems to whirr with deep red energy.
"When I weave so many threads it almost becomes like a painting to the naked eye," Shiota says. "That blurriness is the repetitive movement of weaving. I always aim to draw limitless paintings, so creating these webs is like drawing in the air where I have no limit compared to a canvas."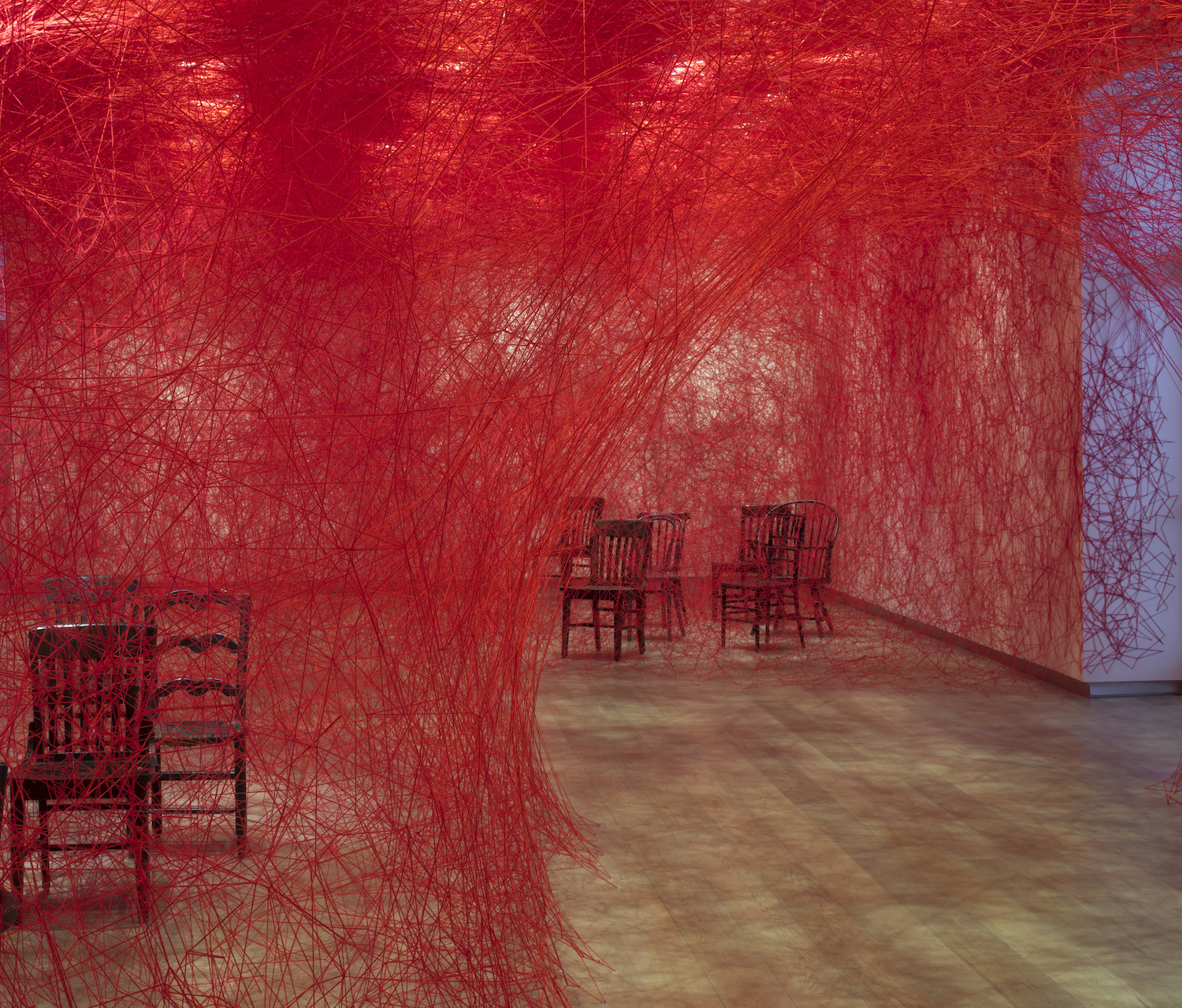 And connect it does. The chaotic cross-sections of "Infinity Lines" allude to the interconnectedness of human memory and how those memories are dependent on impermanent objects, like the empty chairs. Shiota's previous work has used the crimson string as a symbolic medium that adjusts its meaning to respective pieces. Her Uncertain Journey was a meditation on the unpredictability of life's journey through a sea of risk, represented by strings that obscured ghostly silhouettes of steel boats.
Shiota's installation at the 2015 Venice Biennale, The Key In The Hand, used scarlet thread to represent lines of memory and how they relate to one another, by connecting over 50,000 keys donated from people around the world. Whereas The Key In The Hand linked people's living, tangible memories, Infinity Lines highlights the unknown memories that live in found objects.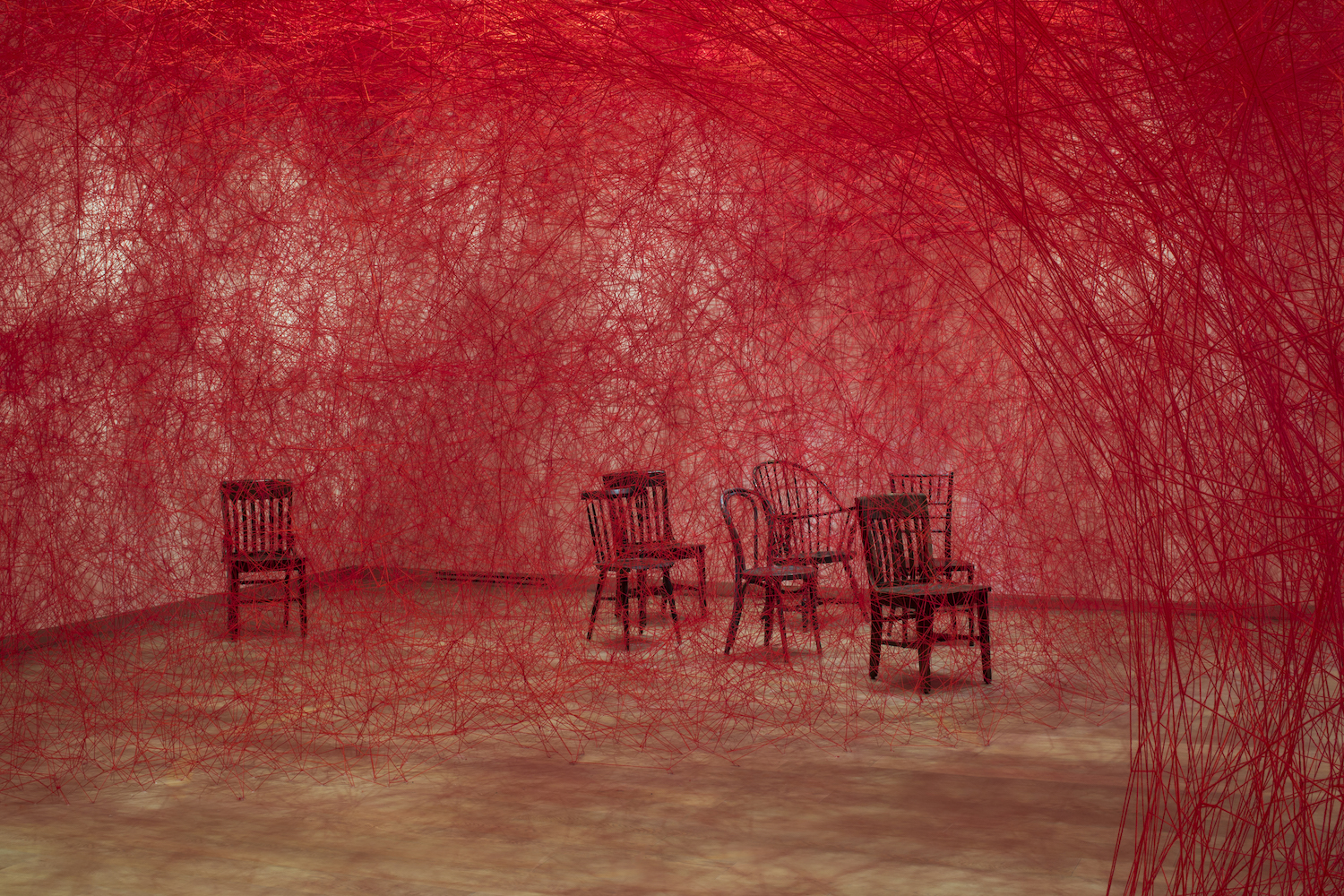 "Red represents the blood in our bodies, therefore life itself," Shiota says. "The red line is invisible to the naked eye, but it is strongly connected to human life. Once we are able to glimpse this piece of red thread, we can observe all relationships as a whole. What inspires me is the connection this color has to humans, their features, and conditions."
The labyrinth that viewers walk through in Infinity Lines doesn't have a resolution or an end. Thus, the work begs its audience to create a narrative to fill the blank space created by found objects. The well-worn chairs could have easily been cast out on the front lawn of an estate sale, forgotten and without meaning. "My art work is ephemeral," Shiota says. "The installations are put down and the strings are thrown away."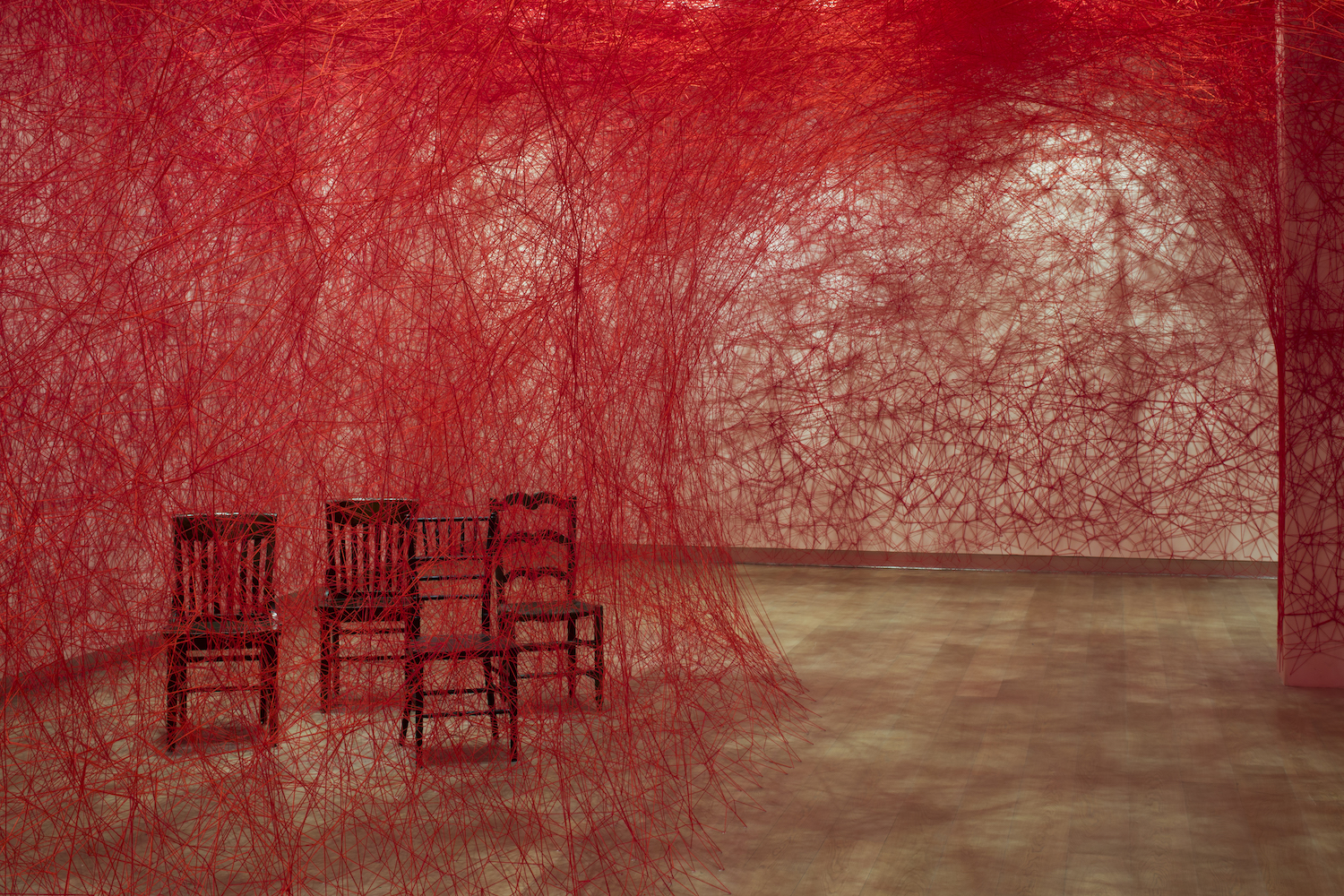 Catch Infinity Lines at SCAD now through August 6, and see more of Shiota's work here.
Related:
Spreading Threads of Experience, Chiharu Shiota Ensnares Gallery Spaces
Blood-Red String Installations Visualize the Connections In-Between
Constructing Linear Labyrinths Of Light
Source: vice.com