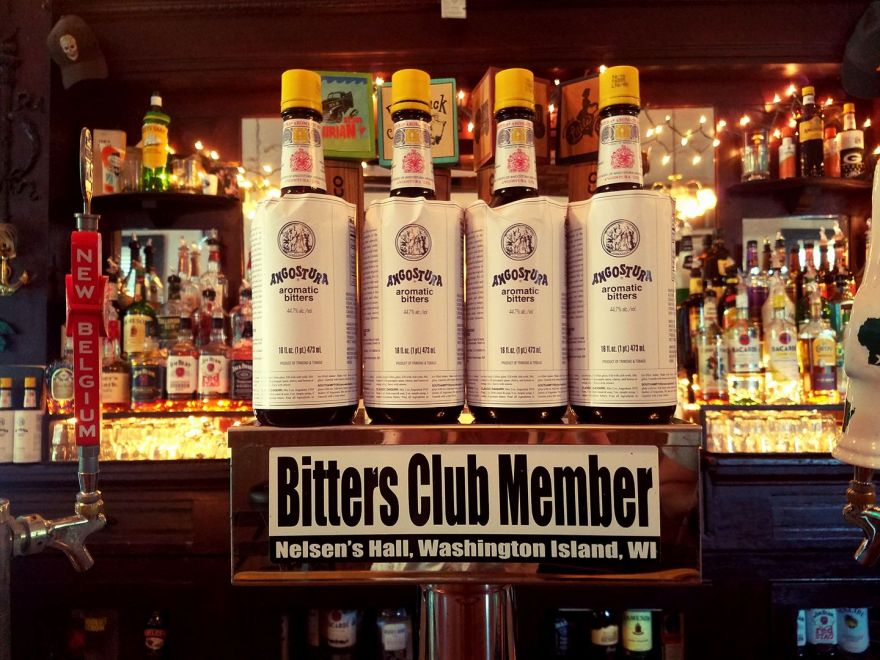 And, specifically, Angostura bitters. That's a particular type and brand of bitter liquor from Trinidad and Tobago. Bitters are liquors that are traditionally served as aids to digestion. Do they work? I don't know, but folk medicine traditions say that they do. That's the crux of our story today.
Nelsen's Hall, a bar on Washington Island in Lake Michigan faced a serious problem during the Prohibition Era. Its primary means of doing business–serving alcohol–was now illegal. But it was legally permissible to offer liquor for medical purposes. Atlas Obscura describes how bar owner Tom Nelsen took advantage of this loophole:
"During Prohibition, Tom got a pharmaceutical license so he could legally sell bitters," says Sarah Jaworski, whose parents have owned Nelsen's since 1999. This loophole wasn't quite the same as that used by doctors who prescribed alcohol during Prohibition. Rather, the bitters were classified as a "stomach tonic for medicinal purposes" instead of alcohol, meaning that a doctor's prescription wasn't required. "Medicinal tinctures are usually taken in smaller doses, but since Angostura bitters are 90 proof, he was able to legally sell it as a tincture," she says. "He just sold it as shots."
Tom's tonic proved to be extremely popular among locals, many of whom apparently suffered from previously undiagnosed stomach ailments. In fact, customers who kept Nelsen's open for the entirety of Prohibition are directly responsible for the pub being the oldest continuously-operating tavern in Wisconsin.
When Prohibition ended in 1933, Nelsen reopened all bar services. But a taste for bitters stuck with the locals. It continues to this day. Customers at Nelsen's Hall remain the largest consumers of Angostura bitters. Drinking a shot gains you entry into the Bitters Club. Custom dictates that you're not a true islander until you've had yours.
Images: Nelsen's Hall, Google Maps
Source: neatorama