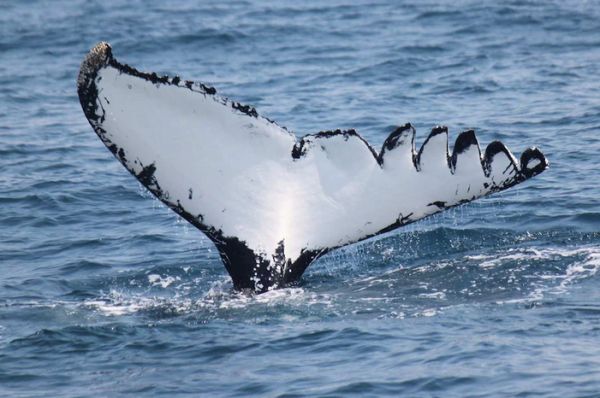 This is what happens when a whale gets too close to a propeller-driven ship. A humpback whale known as Bladerunner is believed to have had a close encounter with a large propeller in 2001. She has deep scars along her left side and on the right wing of her tail fluke.  
Rosalind Butt, who owned a whale watching business in the New South Wales town of Eden, saw Bladerunner twice in her 30 years in the business.

"The first was in 2008, my husband was the first one to comment on it," Ms Butt said.

"It looks like a zebra, it has got stripes on it.

"As we got closer, we saw it was very badly cut, it must have been a huge ship that struck her."

Ms Butt saw Bladerunner again in 2013, with a calf.

"She's probably one of the most unique animals I've seen," she said.
Read about Bladerunner, and the danger that ship's propellers pose for whales at ABC News Australia. -via reddit
(Image credit: Rosalind Butt)
Source: neatorama