Does anyone else remember the completely unique, yet impractical exercise of style over substance known as the Kone? Designed by Karim Rashid for Dirt Devil back in the early 2000s, the handheld vacuum's primary appeal was its minimalist cone shape. The Kone wasn't necessarily an ergonomic success, but still had its proponents for its sculptural form, a design to be seen as much as purchased to clean. The Actoplus concept by Chinese design studio Suosi Design gives off some of those same vibes, albeit with a form more thoughtfully conceived with a greater deal of functionally and ergonomics than its early 2000s predecessor.
The Actoplus is as elegantly shaped as it is clumsily named, a lightweight cordless wet-dry vacuum cleaner with a gently tapered cylindrical silhouette with built-in cleaning water containment units that pare down controls to the bare minimum.
Suosi's approach seems almost like the antithesis of the ubiquitous Dyson stick vacuum; instead of a brightly colored cleaning tool, the Actoplus takes on a more soothing, organic-architectural approach to a cleaning device that doesn't beg to be noticed.
The Actoplus is most interesting and appreciated from the front, with an obelisk or candle-like profile.
Unlike the above mentioned Kone, the Actoplus designers have given their vacuum a more comfortable handle grip, with an easy to reach and press power button.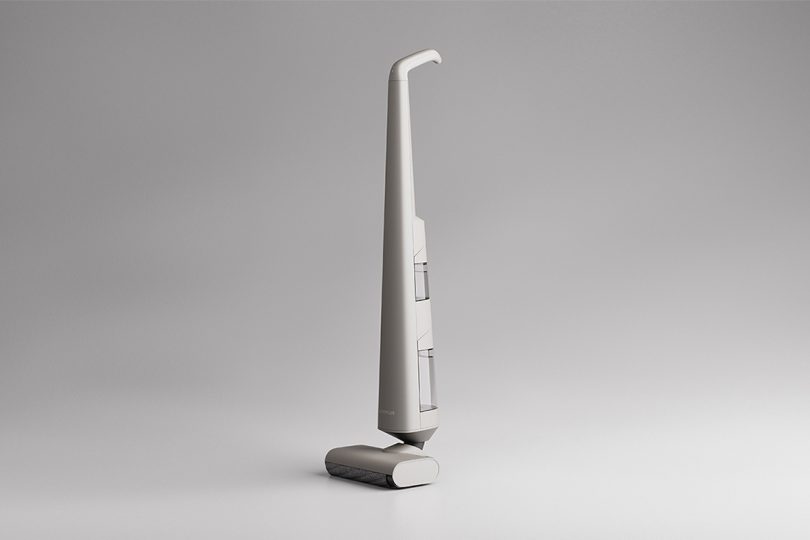 Clean freaks hoping for such a blissfully calming appliance dedicated to the art of cleaning will be sadly disappointed to discover the Actoplus is currently only a concept. Stylishly executed solutions like the Samsung Bespoke Jet and Miele Triflex HX1 Pro both offer a similar degree of all-in-one functionality as imagined for the Actoplus, but available today, albeit at premium prices, each exceeding the price of even some dedicated canister and upright models.
This post contains affiliate links, so if you make a purchase from an affiliate link, we earn a commission. Thanks for supporting Design Milk!
Source: design-milk