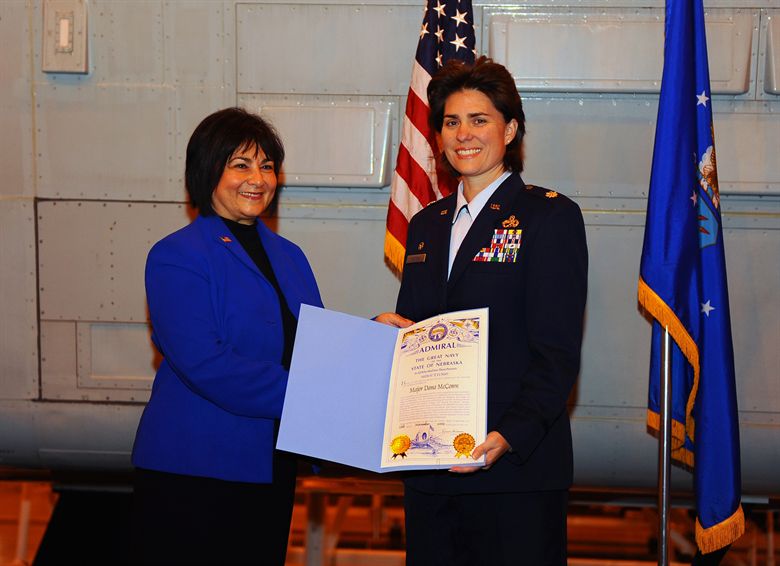 In 1930, Governor Charles W. Bryan went on vacation and left Lieutenant Governor T.W. Metcalfe in charge. In the absence of the governor, Lt. Gov. Metcalfe decided to form the Great Navy of Nebraska.
Nebraska is landlocked. In fact, it's triply landlocked. That means that all states that border it are landlocked, as well as all of the states that border those states. That, of course, does not preclude a nation from forming a navy. Nebraska does, after all, have rivers and lakes.
But Great Navy of Nebraska is not a military organization. It is an honorary society to which the Governor appoints people who have distinguished themselves. Appointees become Admirals (there are no junior ranks) along with a decorative certificate suitable for display. The certificate, which is signed by the Governor, reads:
Know ye, that reposing special trust and confidence in the patriotism, valor, fidelity and abilities of [name of recipient] and knowing him to be a good fellow and loyal friend and counselor I have nominated and do appoint him an Admiral in the Great Navy of the State of Nebraska. He is therefore called to diligently discharge the duties of Admiral by doing and performing all manner of things thereto belonging. And I do strictly charge and require all officers, seamen, tadpoles and goldfish under his command to be obedient to his orders as Admiral–and he is to observe and follow, from time to time, such direction as he shall receive, according to the rules and discipline of the Great Navy of the State of Nebraska. This commission to continue in force during the period of his good behavior, and the pleasure of the Chief Admiral of the Great Navy of the State of Nebraska.
Many Admirals join the Nebraska Admirals Association, which exists to:
To promote education and educational activities throughout the state.
To promote tourism in the state.
To promote Nebraska products.
To enhance Nebraska's agricultural industry.
To seek and save Nebraska's sea.
To develop and maintain ports throughout the state.
To enjoy fun activities such as "walking the plank".
To build Nebraska pride and esprit de corps.
To recycle Nebraska's assets.
To increase the fleet of flagships of the Nebraska Navy.
To continue efforts to have U.S. Naval ships named after Nebraska, its people and places.
Photo: US Air Force/Josh Plueger
Source: neatorama