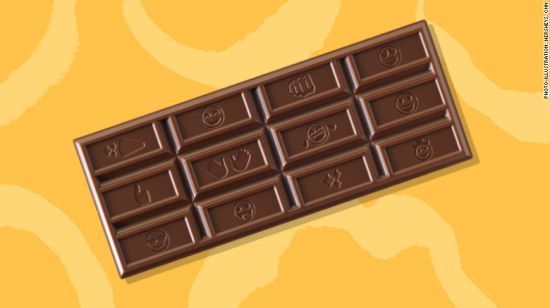 Hershey's design of chocolate bars with its logo embossed on the middle has remained unchanged for a century and a quarter. Now, after 125 long years, the chocolate company redesigned the iconic bar, and the design is dedicated to the texting generation of today. The new design removes the logo, and instead replaces it with emojis.
The new emoji chocolate bars, which will be available for a limited time starting this summer, will feature 25 of "the most popular emojis" engraved in the bar's squares. "In today's text savvy world, many conversations start (and end) with an emoji," Hershey's senior brand manager Kriston Ohm told People. "By adding an emoji design to each pip of chocolate, we hope that parents and kids are inspired to share a chocolate emoji and make a connection with someone new."
What are your thoughts on this new design?
(Image Credit: Hershey's)
Source: neatorama