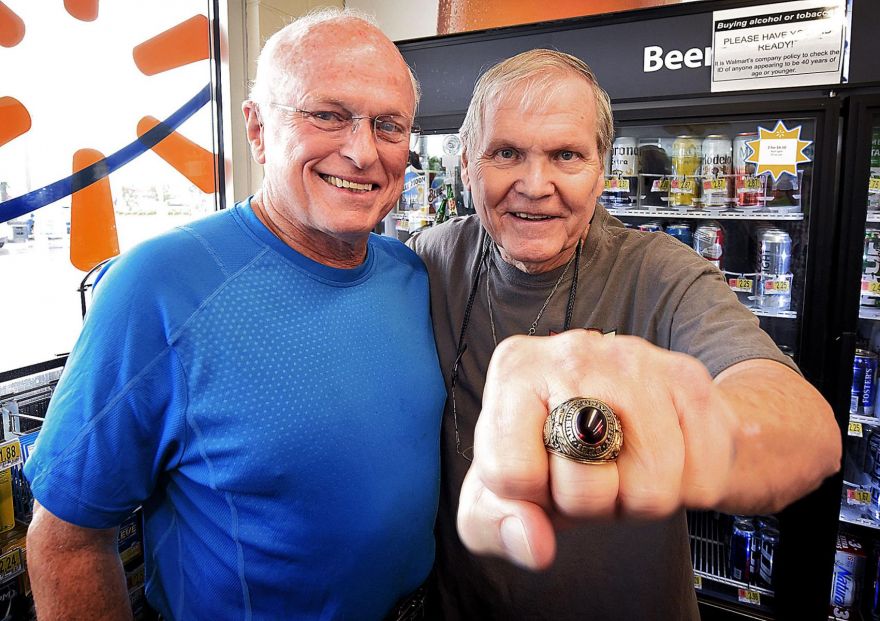 On a cold day in 1966, as he visited a patient from Dothan Hospital (now known as Southeast Health), 22-year-old Victor Voss wore his Auburn University ring on his glove, for it was too large on his fingers. Unfortunately, when he removed the glove, he forgot to pull the ring out first. And so the ring went flying in the parking lot outside the hospital's front entrance.
"I walked that parking lot for two days looking for my ring and never did find it," said Voss, who studied accounting at Auburn but never finished his degree.
Voss, now 74, was reunited with the lost ring on Monday. He and his wife Jean Voss drove over from their home in Enterprise to meet Jimmy Kilgore, a former Houston County school board member. The weather was much warmer than when Voss last saw the ring, and a brief rain storm didn't dampen the occasion when Kilgore handed the ring over inside the gas station at the Walmart Neighborhood Market in Dothan.
Kilgore's father found the class ring many years ago, although Kilgore is not sure exactly when or where his father found the ring. His father gave him the ring, and Kilgore said he made some calls but got nowhere with the search for the rightful owner. The ring ended up in a box.
Via AP News
(Image Credit: Jay Hare/ Dothan Eagle)
Source: neatorama