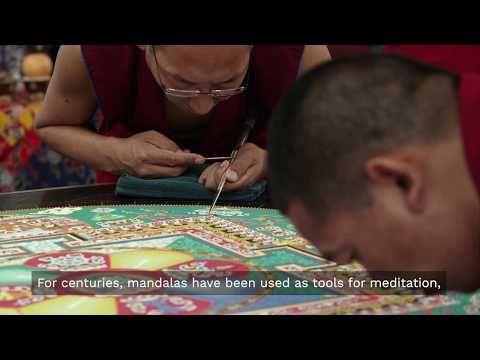 A robot named Scribit sketches out a lotus with designs on each petal on a wall. It does this beautiful masterpiece for six hours. As soon as it is completed, however, the robot does the unthinkable: it erases the image it just made, leaving no trace of the artwork behind.
In reality, however, the practice of drawing something and erasing it does exist in real life. This practice is called mandala.
These complex patterns are meant to reflect the visions that monks see while meditating about virtues such as compassion, wisdom, and more, says Tenzin Priyadarshi, a Buddhist monk and the CEO of the Dalai Lama Center for Ethics and Transformative Values at MIT…
Traditional mandalas are sketched out by hand and then painstakingly filled with colored sand. Once the mandala is complete, it is destroyed, symbolizing the transience of beauty and existence. Scribit, however, isn't so delicate, and relies on pre-programmed images. There is no sand, no meticulous sketching, no fear that the mandala could be destroyed any second. There's also the physical relief. "It was easier on my back than creating these intricate mandalas," Priyadarshi says of the traditional 50-hour process.
But getting a robot to sketch a design on the wall seems counterproductive. Isn't it cheating?
Priyadarshi states that this is not cheating. Find out why over at Technology Review.
What are your thoughts about this one?
(Video Credit: Scribit-design/ YouTube)
Source: neatorama