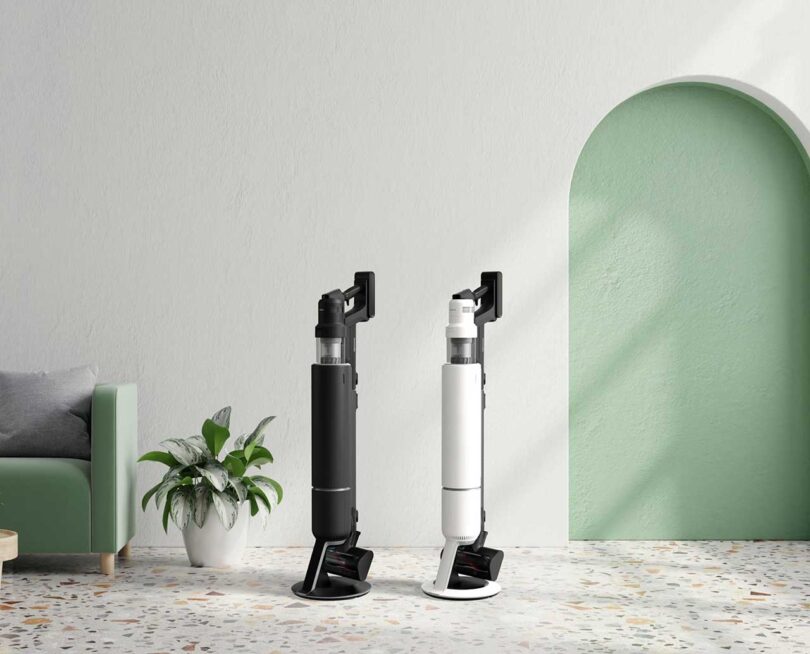 It's only been a little over a year since Samsung launched the original Bespoke Jet stick vacuum, an all-in-one cordless cleaning appliance with a decor-friendly design and adaptable multi-surface brush and suction capabilities, and they're already updating the device with the addition of those now two ubiquitous letters: AI.
Beyond its new satin black finish, the artificial intelligence enhanced Samsung Bespoke Jet AI may appear indistinguishable from its launch model predecessor. But don't let outward appearances fool you, there are several notable performance and efficiency improvements that distinguish this new model as a distinct successor (and sets to warrant its $300 price bump).
Now you may be wondering about artificial intelligence's role in this new model and if it really improves chasing down dust bunnies and errant pieces of snacks. Samsung's AI Cleaning Mode is essentially smart enough to distinguish between different floor types as quickly as you might, adjusting the cleaning power and in turn stretch out battery life. The vacuum does all this via sensors to feed the vac's AI data about the brush load alongside the air pressure through pressure sensors (for example, a tufted rug will result in higher air pressure than a wood floor).
In turn the AI system dials up or down suction power and brush roll speed to optimal settings on the fly. You'll definitely notice when the AI is working, as it results in audible changes similar to shifting gears in a car while it switches from hard wood floors, carpet, rugs, and tiles, adjusting suction and brush performance near instantaneously.
Samsung has also switched out the heart of the Bespoke Jet AI with an upgraded HexaJet Motor. This new motor brings with it a 25% increase in suction power compared to the original Bespoke Jet AI. What's impressive is while the motor boosts the vacuum's suction power to 280W, the motor is 52% more efficient. At max setting, we found the suction power is comparable to a corded vacuum, so strong it is capable of pulling up low pile area rugs and runners.
Samsung says the Bespoke Jet AI is the first cordless stick vacuum to feature an AI verification from UL Solutions, a newly set standard of testing created to test AI algorithm product claims independently and determine whether the AI can adapt to both unstructured and structured conditions (versus machine learning, the older and less adaptable software+hardware optimization technology).
And this vacuum being an extension of Samsung's smart home ecosystem, there's also Wi-Fi connectivity built-in, allowing users to add the Bespoke Jet AI into the SmartThings app to further customize the vacuum and its functions. The app also gives owners the option to run the smart self-diagnosis function to keep their vacuum running at tip-top.
We just hope Samsung eventually adds a few more color options to this top tier model. The original Bespoke Jet [shown above] nabbed an iF Design Award 2022 a year ago with a trio of interior design friendly hues to appeal to those homeowners who prefer to keep their vacuum out in the open, ready for duty at a moment's notice – a purely aesthetic preference we do not believe has changed even with the advent of artificial intelligence.
The Samsung Bespoke Jet AI is not yet available, but is listed at samsung.com as a pre-order with a limited period $150 discount ahead of availability.
This post contains affiliate links, so if you make a purchase from an affiliate link, we earn a commission. Thanks for supporting Design Milk!
Source: design-milk