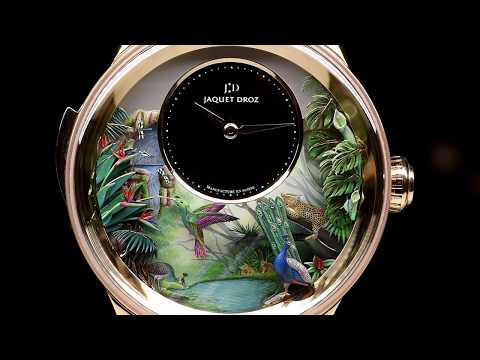 Jacquet Droz, a Swiss watchmaking firm created in the 1760s by a craftsman of the same name, makes astonishing works of art in the form of watches. They're playful automata as much as they are luxurious timepieces. Each one tells a story in intricate, precise, clockwork motion.
This one, titled Tropical Bird Repeater, will have a run of merely eight machines. The company describes the wonders of this tiny masterpiece:
The fully hand-engraved and hand-painted dial is showcasing 7 different animation that may exceed 12 seconds allow for up to 4 different scenarios, all the more striking as they contrast with the suspended background of the scene.
The waterfall flows eternally in perfect realistic fashion. A one-of-a-kind animation in watchmaking history, the hummingbird wings beat up to 40 times a second (80 times in real life), adding incredible realism to the scene. The peacock opens and closes its tail, while a toucan emerges from the palm leaves to open its beak. The dancing flight of three elegant dragonflies adds to the magic by day or by night as their tiny SuperLuminova®-coated wings glow in the dark.
-via Nag on the Lake
Source: neatorama