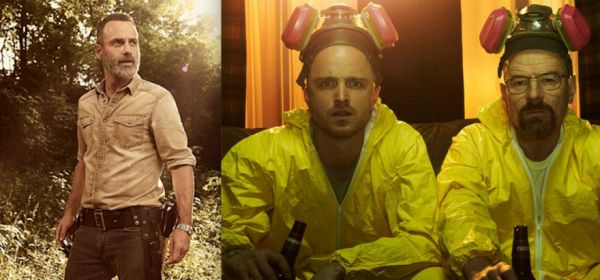 AMC once stood for American Movie Classics, but when they began to do their own drama series, they went big, with Mad Men, The Walking Dead, and Breaking Bad. And now they are getting into movies again- their own movies, based on their hit TV shows. The strange departure of Rick Grimes from The Walking Dead was followed by the news that star Andrew Lincoln will reprise the character in several Walking Dead movies to air on AMC. And Vince Gilligan is said to be working on a two-hour film set in the Breaking Bad universe. The news of the Breaking Bad movie came from unnamed sources.
It's unclear if the movie would be another prequel — like AMC's Better Call Saul — or a follow-up of some sort. It's also unclear is if any of the original stars, such as Bryan Cranston or Aaron Paul, are involved in the new project, which sources stress will be set in the existing Breaking Bad franchise.

Gilligan, sources say, will pen the script, executive produce and possibly direct. Breaking Bad and prequel series Better Call Saul exec producers Mark Johnson and Melissa Bernstein are also said to be attached to the film project, which is said to follow the escape of a kidnapped man and his quest for freedom. Production is expected to begin this month in New Mexico.
That sure sounds like a Jesse Pinkman plot, considering he escaped from slavery in the final Breaking Bad episode, don't you think? -via Mashable
Source: neatorama