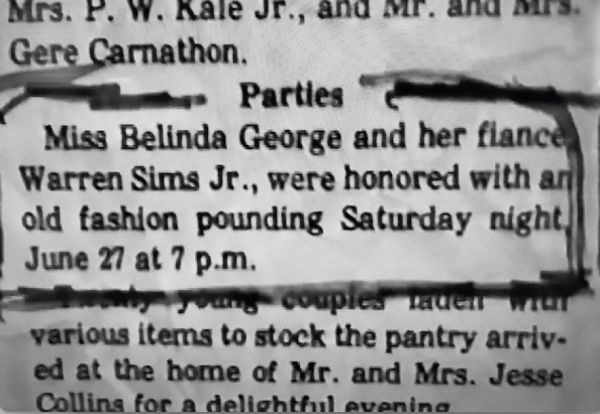 Oh my. This newspaper announcement might bring up a vision of the bedroom sign we featured a couple of months ago. And this is for a couple who isn't married yet! But there's more here than meets the eye. When I saw this clipping from Bad Newspaper, I tried hard to figure out where the typo was, and what it's supposed to say. There is no typo.
An Old Fashioned Pounding is a real thing. Today we would call it a food shower, when friends and community come together to stock a pantry with staples like flour, sugar, cornmeal, beans, and spices. The name comes from the fact that a lot of these goods were sold by the pound. It's a great idea for a newly married couple, or for someone who is establishing a new home. Traditionally, churches did it when a new pastor took up residence in a parsonage.
Considering the way the term "pounding" is used in the 21st century though, you might want to call your party a food shower, just to keep the prurient puns to a minimum.
Source: neatorama