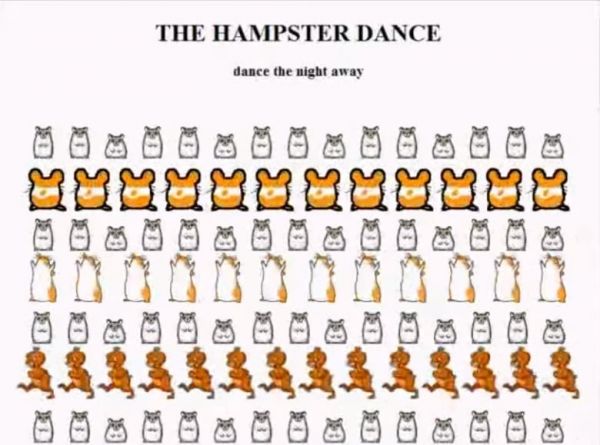 Twenty years ago, we didn't even have a term for "viral" or even "meme." But hampsterdance was both, and more than that. You couldn't go online without encountering the pixelated hamsters dancing to Roger Miller singing in double time. The story of how hampsterdance was born, soared higher and higher, and then went down in history is more dramatic and complicated than you ever knew. It started when Deidre LaCarte felt the temptation to draw as many people as possible to her Geocities website. She was in competition with her sister and Hazel Steenman. Then things got out of hand.
Deidre LaCarte: Not everybody had access to the internet or a computer back then, so we were getting 10,000 letters a month [from] some kids and some teachers.

Hazel Steenman: Pretty well as soon as the mail started coming in, I was answering emails, and I think I was posing as a hampster — Hado the girl hampster, and I'm not a girly person. (laughs)

Deidre LaCarte: One email came across my desk [from a father] saying that his daughter is very ill. She was depressed all the time. And he said, Thank you very much for the Hampsterdance because when she plays it she's happy." Whatever happens, that was the happiest moment of my life. That helped. I clicked with somebody and it made somebody happy.
But fame has its price. Others appropriated hampsterdance, then a dedicated website was formed, then musical groups used it, and then Disney objected over the song. Deidre LaCarte was caught in the middle, trying to protect herself and defend her creation. Read the story of hampsterdance at CBC.
Source: neatorama