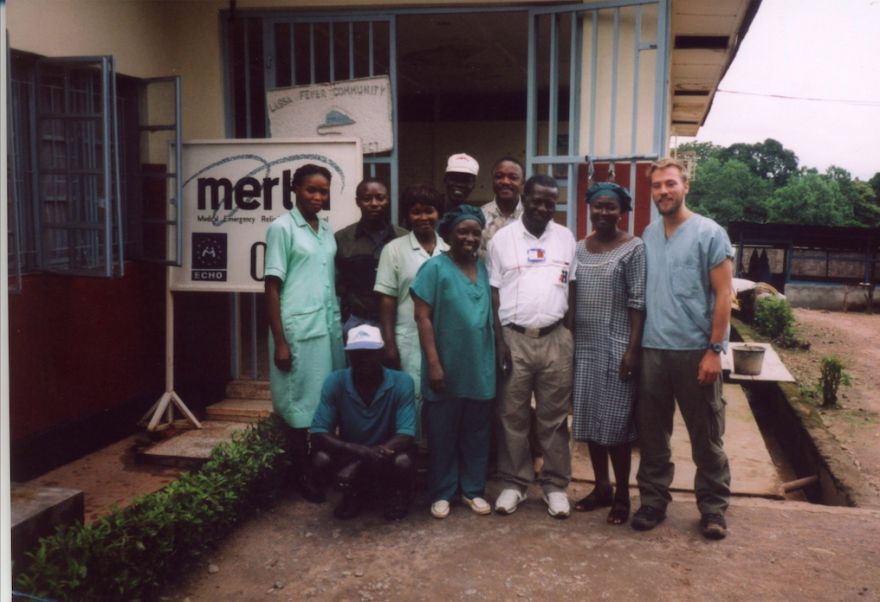 Dr. Conteh (white polo, third from right) stands with his staff at the Lassa Ward. Ross Donaldson (far right) would later write up the experience in a book.
In the midst of civil strife, the Lassa fever research program run by the Centers for Disease Control and Prevention was turned over to the host government of Sierra Leone and the researchers left. Except for one man, Dr. Aniru Sahib Sahib Conteh.
With few resources and a skeleton crew, Conteh would spend the next 11 years treating Lassa patients in the middle of one of his country's—heck, history's—most horrific war zones.
Decades later, it's clear Conteh's work helped revolutionize the way Lassa is diagnosed and treated, and his persistence amidst civil unrest and human rights violations provided a framework for others battling hemorrhagic fevers and emerging diseases in some of the world's most in-need environments. By one estimate, Conteh's work reduced Lassa mortality by 20 percent. He saved countless lives. He even housed refugees in his own home.
However, not long after the war finally ended, an accidental needle prick led to Conteh's own Lassa infection. He eventually succumbed to the disease that he had dedicated his life to fighting. But while Conteh and the virus that killed him are widely unknown, his example continues to inspire others and shape the approach to fighting devastating viral outbreaks in Africa and beyond.
(Image credit: Ross Donaldson/Ars Technica)
Source: neatorama