5Boro co-founder and New York City skatepark activist Steve Rodriguez has often referred to Manhattan's streets, stoops, and ever-evolving obstacles as the "greatest skatepark in the world." From the inventiveness of early hip-hop pioneers throwing rogue parties in the South Bronx to Keith Haring's subway art, New Yorkers have a penchant for subverting the city to foster their praxes. If you live in Manhattan, there's a good chance that the city itself is your living room and for creatives; it's your workspace, dotted with unpredictability and unfortunately, a charm that's rapidly giving way to commercialism.
Renowned photographer and filmmaker Ari Marcopoulos' body of work is deep, varied, and distinct, but for many, his images of early 90s New York skate culture that remain the most beloved and nostalgic. With over 10 books published, permanent works on display in the Whitney Museum of American Art and San Francisco Museum of Modern Art, along with an impressive list of solo/group exhibition, his photographs are threaded together with a stark simplicity that casts intrigue on the viewer, almost elevating every subject to celebrity, simply by how he frames them in the light.
Marcopoulos' mostly black-and-white candids and action shots aren't about memory or time, but rather the charisma of the characters he encounters in the circles he travels. His archive of skate photography has a longstanding allure and mystique surrounding it, but Marcopoulos' perspective is much more grounded.
"People are romantic about it, because it's their nature to idealize the past," he says. "I enjoyed that time (the 90s) a lot but I still enjoy many things now. I don't miss it in anyway. I did miss some of the kids that passed away. I wish I could still go have a beer with Justin Pierce."
Pierce, who committed suicide in 2000, was one of the stalwarts of the downtown scene and garnered fame for his role as Capser in Larry Clark's Kids (1995), which lead to a successful film career. Along with Pierce, several of the subjects Marcopoulos photographed appeared in Clark and Korine's motion picture, including Javier Nunez, Jeff Pang, Hamilton Harris, Peter Bici, Mike Hernandez, and perhaps the most known and storied figure in New York skateboarding, Harold Hunter, who passed away in 2006.
As he rattles off New York skate royalty that he's photographed, he's quick to comment that "they were all cool—every single one of them." In many ways, they were collectively a walking lookbook, heralded and coveted as the tight-knit clique with true creativity. Marcopoulos cites that intimacy as the allure and root of authenticity. Inspired by the hip hop scene he was exposed to in the early 80s, he mentions the feelings of newness, inventiveness, and intimacy.
Documented most prominently in his monograph Stoopz (2010), was a rickety brick area on the Manhattan side of the Brooklyn Bridge, confusingly dubbed the Brooklyn Banks to outsiders and out-of-towners. The Banks, shrouded in shadows, debris, and a tense feeling of lawlessness, became a haven for skaters, graffiti artists, and the city's homeless. It also became an urban landscape that leant itself to the style, technicality, and commingling that birthed a timeless aesthetic.
"The Banks was I think one of the main skate spots in New York, not just to skate, but also a meeting place to venture elsewhere," he says, before downplaying the conditions under the bridge. "It was a little rough around the edges. It was probably not designed to be a skate park but it sure was."
Marcopoulos' latest New York-based project is a capsule collection, exhibition, and zine with adidas Skateboarding, titled Aight'. Released to coincide with an archival display of his prints, his current project documents a new breed skating New York, including Tyshawn Jones, Nestor Judkins, Kevin Lowry, Frankie Spears, and anchored by legacy artist, creative, and pioneer Mark Gonzales.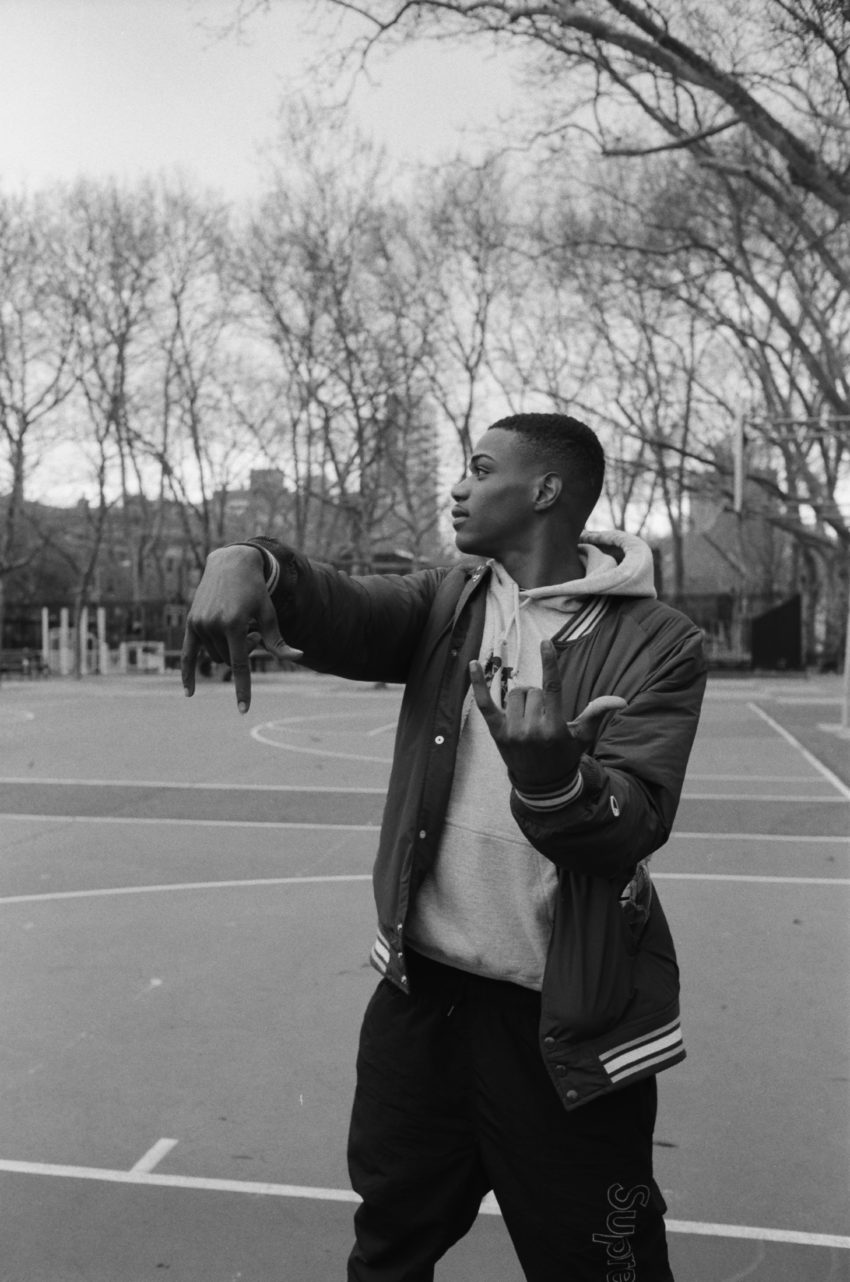 The images compiled in Aight' have all the hallmarks of his work—true grit and a confidence that teeters on cocky—but for Marcopoulos, photography, like his time in New York is never about routine or leaning on the aesthetic he's honed over the decades.
He says, "I like to make things fast. Zines are the most immediate way of publishing printed works. I dig bad copy machines as it adds to photographic error. Now of course there's social media, but it's a phantom. By that I mean the digital realm is not physical. It's not something you can really hold and feel. A zine you experience in the physical works it's a tactile object that doesn't require a battery to look at it."
"NYC is a dynamic place. It forces you, in a way, to seek progression in your work," he says. "I think the way my work changed has more to do with the problems that come with using photography as a medium. I learned to doubt the camera and I understand better what I possibly am after. I'm less afraid to fail."
To learn more about Ari Marcopoulos, click here. 
Related:
Still Pushing Buttons: Sean Cliver on Skate Graphics and His New Brand
Painting His Way into Skateboarding: The Art of Lucas Beaufort
You Can Thrash This Pop Art Skate Park
Source: vice.com