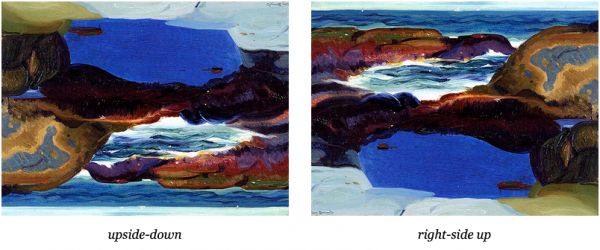 It's been a joke ever since the advent of modern art- if this painting were hung upside down, would anyone know the difference? Alex Boese looked up cases in which that actually happened. Yes, museums and galleries have been known to hang pictures upside down, or even sideways. While most could be classified as modern art, they are not all abstracts. The image at the top is a case in which critics assumed the painting was abstract, but it was only upside-down.
At a 1915 art exhibition in Grand Rapids, Michigan, "The Blue Pool," by George Bellows, was hung in a conspicuous location. Several artists gave talks at the event in which they referenced it, describing it as "modern in treatment." It was only after three weeks that the exhibitors realized they had hung the painting upside-down. When righted, the seemingly abstract swatches of color transformed into a more familiar scene of a pool of water surrounded by rocks.
Read 13 stories of art displayed the wrong way, and even more examples of people making that joke about it, at Weird Universe.
Source: neatorama