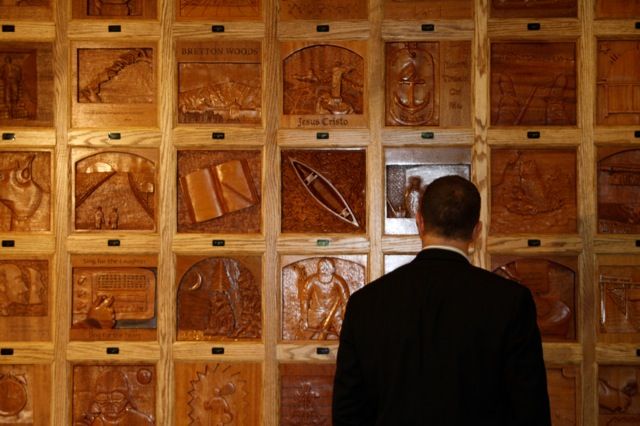 Redditor snoopclog brings to our attention his school, the Belmont Hill School, outside of Boston, Massachusetts. Since the 1920s, this school has required all graduating seniors to carve a 12×12 inch piece of mahogany into something meaningful to them. These are added to an ever-growing wall of about 3,000 panels. A 2004 article in the Boston Globe explains:
"It's a social history," says Headmaster Richard I. Melvoin. "From the time boys arrive, they know they'll leave a piece of themselves on the walls, and so there's a sense they're part of something larger."
The wall of panels is an ongoing work of social history. Melvoin continues:
"One from the 1970s shows a nut and bolt alongside a symbol of infinity and an arrow pointing down," says Melvoin. "It was designed to hang over a water fountain, and the message is that people of color always get screwed. The carving was moved from the fountain because, while some said it should remain as a statement of artistic license, students and faculty of color said it made them not want to drink at the fountain, so it was an interesting dilemma."
Later, in the cafeteria, Melvoin points to a panel carved in 1972 that shows symbols of the Soviet Union, China, a Nazi insignia, and Belmont Hill.
"I'm not sure what that boy was thinking of," says Melvoin, "but it engenders discussion.
"I teach an ethics class, and we talk about the power of symbols, and about racism and the incident at Harvard when a student hung a Confederate flag and people said the flag was racist. So, that set up an opportunity to talk about racism and when symbols are racist and offensive. Comparing a Confederate flag to a Nazi flag is interesting, because most boys, when they see a swastika, will say you can't show that because it's offensive.
"But then if you ask, well, why a Confederate flag? Is it because some people do not find it offensive? Inevitably, a boy will say, `Didn't I see a swastika in a panel in our dining hall?'
"And I say, `Well, yes, you did, and we need to talk about that.' "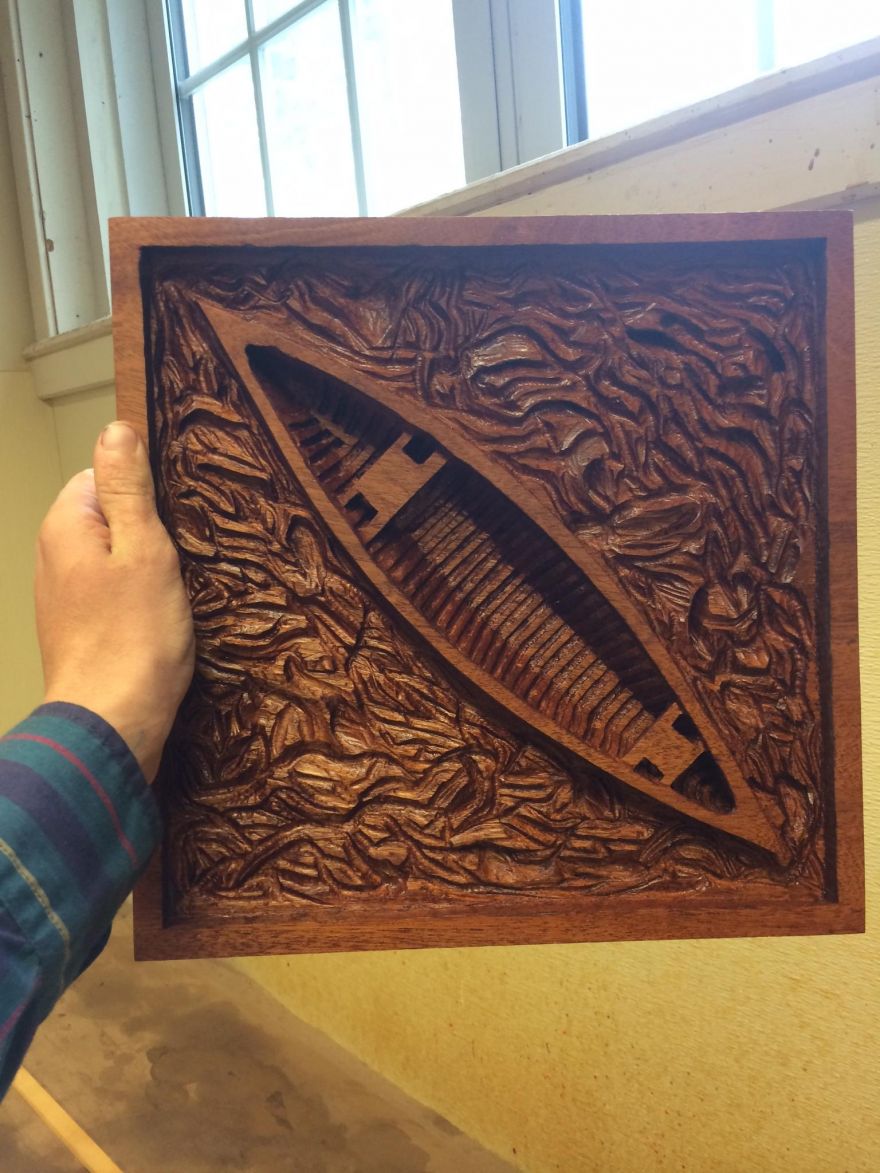 This is snoopclog's lovely contribution to the wall.
Source: neatorama