Luxury kitchen and bathroom brand AXOR made its entrance into the world nearly 30 years ago, intent on developing fixtures that exude design, technology, and quality. Today, they're known as an innovative, sophisticated bathroom design brand that can turn custom bathroom dreams into a reality in both high-end residential and hospitality projects. AXOR has been setting trends in the industry since the launch of their iconic first design collection: AXOR Starck. Continued collaborations with top designers, architects, and interior designers give them an edge, while their achievements in water-related design, conservation, and more are the cherry on top of it all.
AXOR's current product lineup holds more than 2,000 detailed items in a range of styles that will match up with anyone's aesthetic, each manufactured in Germany. The brand continues to innovate further with the addition of AXOR FinishPlus surface finishes, providing yet more opportunities for unique, luxurious design results. On another front, AXOR Signature service satisfies the individual needs of customers who want a unique one-of-a-kind product. Meeting perfection in every detail – during the design, planning, and production phases – is their hallmark.
As part of the Hansgrohe Group, AXOR is privy to more than 100 years of expertise in the industry. When high-tech advancements meet quality craftsmanship, every single product under their umbrella shares the brand's philosophy of form follows perfection. Furthermore, the manufacturing site at the Hansgrohe Group headquarters in Schiltach in the Black Forest will be modernized over the next twelve months, creating the 'AXOR Center for Excellence'.
"With our design brand AXOR, we have been successfully serving the global contract business since 1993, as well as affluent and design-oriented builders in search of uniqueness in the bathroom and kitchen," adds Olivier Sogno, Business Unit Head AXOR. "We will meet the increasing demand for personalized solutions and colors with the added capacities, such as for our AXOR Signature services. With this investment we are increasing our proximity to the customer."
The precise details of each individual piece matter to AXOR, including quality of materials. AXOR MyEdition was designed in collaboration with Phoenix Design to create a product that allowed customers to combine aesthetics with the option of personal customization. The highlight of the collection is a minimal, generously-sized modular cover plate that can be used with "mixers" for a touch of individuality. The impressive collection of materials available include Mirrored Glass, Black Glass, Black Walnut, European Napa Leather, white Lasa Covelano Vena Oro Marble, black Nero Marquina Marble, and metal in ten surface finishes. Each cover plate is a real work of art, with each material crafted by talented artisans who excel at their craft.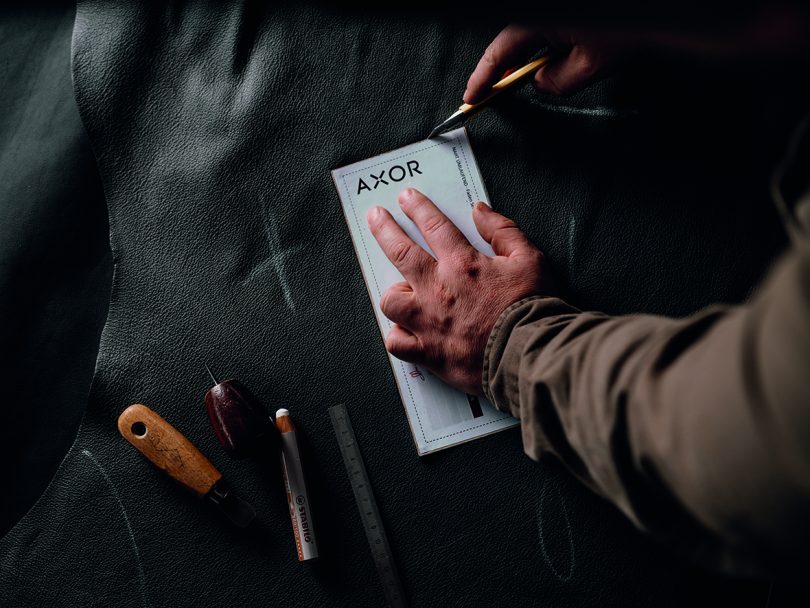 The Nappa leather hides used for the AXOR MyEdition leather cover plates come from southern Germany and Austria, with the majority of the process done by hand. Through the use of durable Nappa leather, AXOR is able to add an unexpected tactile element to the collection. White Lasa calcite marble hails from Jenn Cliff Massif quarry in South Tyrol, Italy, chosen for their veining, gloss, and edges. The walnut wood used for the cover plate comes from sustainably managed forests in North America, where it's cultivated and processed according to socially and ecologically responsible methods. These are only a few of the options available for AXOR MyEdition's cover plates – we shared more about the collection here.
The everyday cube is taken to the next level in the AXOR Edge collection by an asymmetrical arrangement of rectangular prisms designed to reflect light and shadow. Designed by Jean-Marie Massaud to exhibit confidence and style, the pieces within the collection are cut with actual diamond to create edges and surfaces on the verge of perfection. To accomplish this, a state-of-the-art diamond-cutting machine was developed to ensure accuracy down to a thousandth of a millimeter.
AXOR Edge puts the brand at the forefront of technology, as well as personal expression. AXOR FinishPlus surfaces enhance the collection, from Polished Gold Optic to Polished Black Chrome. Technology gives the finishes more resistance, greater longevity, and unprecedented brilliance and color. Exceptional design, flawless functionality, and generous proportions are sure to satisfy discerning tastes and high aspirations.
AXOR's fixtures only continue to get better, an example being their latest timeless design: AXOR One. Coming to the US in 2022 and designed by Barber and Ogersby, the modern bathroom collection is characterized by slender silhouettes, flat surfaces, soft corners, and balanced proportions. AXOR One gives the user enhanced function and superior control, thanks to clever and intuitive Select Technology. Press down on the mechanical controller to start or stop the water, or swivel it clockwise to increase the temperature.
"How do you challenge the archetype? Through the pursuit of art and science, invention, and interaction. AXOR One provokes the memory of water but heralds a new way of controlling it that is much more precise and incredibly refined. The AXOR One products are unique, made possible through our design thinking, and realized by the incredible engineering of AXOR," Edward Barber and Jay Osgerby explain.
Again, we're presented with a wide range of personalization options to customize the shower experience. The overhead showers and hand showers feature strong monolithic forms with Rain and PowderRain spray modes . AXOR One will be available in Chrome, Matte Black, and AXOR FinishPlus surfaces. Read more about our initial thoughts on the AXOR One collection here.
Trust your senses, and you can't go wrong with any of AXOR's beautiful bath collections that exhibit innovation, quality, and top design. To learn more about the brand, their history, and their full collection of offerings, visit axor-design.com.
Source: design-milk