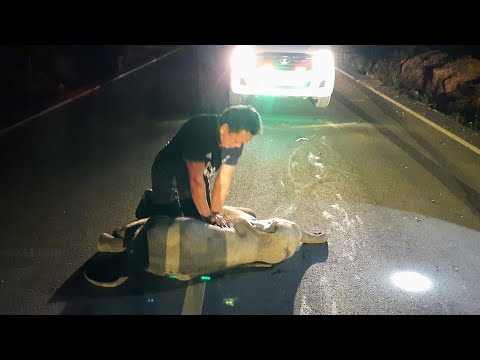 Last month, a motorcyclist crashed into a baby elephant in Thailand. The rider was not badly injured, but the elephant was in very bad shape. An off-duty rescue worker named Mana Srivate came upon the scene and immediately began performing CPR on the elephant. BBC News reports:
Mr Mana, who has been a rescue worker for 26 years, told Reuters he came across the accident scene late on Sunday while he was off duty on a road trip.
"It's my instinct to save lives, but I was worried the whole time because I can hear the mother and other elephants calling for the baby," Mr Mana told the agency by phone.
"I assumed where an elephant heart would be located based on human theory and a video clip I saw online.
"When the baby elephant starting to move, I almost cried," he said.
After ten minutes, the baby elephant stood up. After subsequent treatment, it was released back into the wild.
-via Twisted Sifter
Source: neatorama