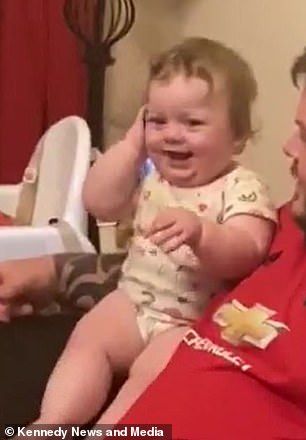 Baby Schuyler-Mai loves imitating her dad. Whenever she sees her father Anthony with the phone in his ear, she would grab it and put it to the back of her head. But when the phone rang, the 11-month baby had the shock of her life.
The startled little girl begins kicking her legs and waving her legs in panic – leaving the room in hysterics.
Mother Aileen Codd, 22, captured the moment on October 21, and her father Anthony, 34, said that they're still laughing about the 'perfectly timed' video.
[…]
'The phone was on loud and vibrated – I don't think she was expecting it to happen – it was priceless.'
He added: 'It was the first time that she'd reacted like that to the phone ringing – usually she just looks at it and thinks "what's this?"
Check out the video over at Daily Mail.
What are your thoughts about this one?
(Image Credit: Kennedy News and Media/ Daily Mail)
Source: neatorama