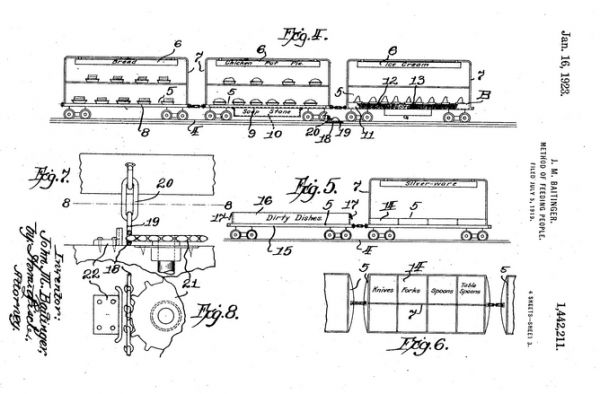 Conveyor belt sushi restaurants have been around since 1958, but the concept goes back much further. In 1923, John Moses Baitinger of Minnesota received a patent for a restaurant system that brought food to diners on a sort-of conveyor belt. This would allow the proprietor to do away with servers completely. We assume the diner paid for an all-you-can-eat experience, since they didn't order, but instead grabbed food off tiny railroad cars that passed by them. Baitinger took his setup to the Minnesota State Fair, where he reportedly made quite a profit.  
Baitinger's Eater was, in many ways, a perfect expression of the mentality of the automation-mad 1920s, obsessed with speed, technology, and efficiency. There were minor drawbacks to the system, however. Diners seated near the end of the line sometimes found that the only cargo left for the eating was boiled cabbage.
Talk about disappointment! That cabbage would be cold, too, by the time you decided to settle for it. Read more about Baitinger's Automatic Eater at Weird Universe.
Source: neatorama